Maximise your free time by minimising your travel time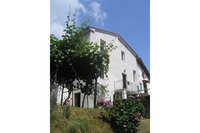 Owning a 2nd home abroad is all about making the most of your acquisition. It is about visiting as often as you can and ensuring that the journey time does not impinge on the enjoyment of your new home.
With airlines cutting routes to some regional airports it is comforting to know that major international airports are always going to be in operation and offering a wide choice of flight times.
"Once you own a home abroad it opens up a whole new lifestyle", says Linda Travella of Casa Travella, experts in the selling of homes in Italy since 1987 to the British and International markets. "One of the greatest delights of owning a home in Italy is the short flight time with some destinations only 1hr 30 minutes.
Don't forget, that once you are established in your new home you do not need the inconvenience of taking a heavy suitcase with you, which in itself saves an enormous amount of "travelling" time. Just think, you can arrive at your UK airport, having booked your flight on line and printed your boarding pass, and walk straight through to passport control. At your destination you alight from the plane and leave the airport immediately, thereby cutting out the time consuming and frustrating wait in baggage reclaim."
Linda travels to Italy frequently, so she knows exactly how easy it is to travel under such circumstances. Added Linda, "When choosing a home abroad for frequent visits you should consider
A. Easy access of the property from the Italian airport. You don't want to spend hours on a motorway to reach your destination.
B. Choice of airlines; budget or schedule. This gives you flexibility to make the trip suit your lifestyle. If the area is only served by budget airlines, make sure you have a choice of more than one airport (e.g. Le Marche – Ancona and Pescara for example).
Currently available through Casa Travella are three excellent properties within easy reach of International airports.
Nice airport
Just over the border in the South of France is Nice airport providing a wide range of daily flights from the UK and a short drive along the beautiful coastal road to Italy.
At Imperia in Western Liguria there is a lovely villa just an hour's drive from Nice airport. Located 3 km from the centre of Imperia in the area of Porto Maurizio this is a fine location in which to own a 2nd home.
This spacious property on three levels comprises a storage cellar, living room and kitchen area, plus two bedrooms, bathroom and balcony. The property benefits from lovely views over open countryside to the sea. The property also has a garden and covered parking.
350,000 euros.
Milan airport
Just 50 miles approx from Milan airport is The Ghiffa Health Spa. This exceptional residential complex is located on the shores of Lake Maggiore at Ghiffa and set in 10 acres of spectacular parkland.
The core of the whole complex is the natural heath care centre and spa original started in the 1920's. There are shops and a restaurant as well as 17 residential apartments. A further 23 apartments have just been built within the grounds to complete this tourist hotel residence. Finished to the highest standard, these homes have large terraces with magnificent lake views
Prices range from 207,900 euros to 476,300 euros
Pisa airport
Pisa is a rapidly expanding International airport providing access to the heart of this most beautiful part of Tuscany.
Currently available is a lovely property being offered at a very reasonable price. This is a semi detached, stone built house of about 140 sq m with a good size patio and garden and is located in a quiet position with panoramic views over the surrounding countryside. The property has cellars for storage plus living room and spacious kitchen/dining room with access to a balcony. There are three bedrooms, one with en suite facilities plus family bathroom. The property also has central heating and is just 1hour 10 minutes from the airport.
140,000 euros.
Concluded Linda, "Easy access enables you to fly out on a Friday and be back in the office by Monday, having spent many hours in your new home, enjoying the laid back lifestyle that is uniquely Italian."
For more information, visit casatravella.com