Flood victims get helping hand from Redrow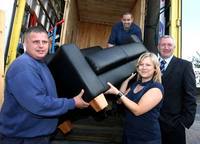 Victims of the devastating floods in South Yorkshire have been given a helping hand by award-winning house builder Redrow. The Wakefield-based developer has donated thousands of pounds worth of almost new furniture from one of its show complexes to a Doncaster-based charity, which collects unwanted furniture and provides it to local people at affordable rates.
Doncaster Refurnish has been working in partnership with Doncaster Council to help people affected by the floods.
And the donations from Redrow, which included a three-piece suite, dining table and chairs and bedroom furniture will soon be making their way to the flood-hit families.
Chief executive of Doncaster Refurnish, Jo Ward, said: "We are absolutely delighted with the donation from Redrow and are very grateful. We would like to urge more large companies to give to this worthy cause."
Doncaster Refurnish opened its doors in January 2003 and since then has collected 74,000 items of furniture and electrical appliances from over 33,000 households, which have been supplied to over 8,000 families in need.
The charity has supplied furniture and electrical items to 131 households affected by the floods, to date.
West Yokshire-based Bishops Move transported the furniture, free of charge, to the charity's storage depot and Redrow Homes (Yorkshire) managing director Jim Cropper attended the handover to see the work of Refurnish first-hand.
Jim said: "The floods have devastated so many homes in Yorkshire, leaving many families with nothing.
"As a well-established house builder in this area Redrow was happy to do its bit to help the local communities.
"Doncaster Refurnish does an amazing job and we are glad to be able to offer our support."
Currently building new homes at Danum St Giles in Scawthorpe, Doncaster, Redrow is a keen supporter of the communities in which it operates. Nationally, the developer has earned the BITC (Business in the Community) 'PerCent Standard' for four consecutive years for giving at least 1% of its profits back to the community in cash, sponsorship, employee time or gifts in kind.
For more about Redrow, its homes portfolio and its community initiatives, visit Redrow.co.uk.