Avianca takes deliver of first Airbus A320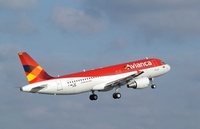 At a hand-over ceremony today in Toulouse, Avianca of Colombia, received its first Airbus A320 aircraft. The aircraft is the first of 60 Airbus aircraft ordered by Avianca as part of its fleet renewal programme.

The A320 has a total capacity for 150 passengers with 12 seats in Executive Class and 138 in Economy. This particular aircraft is due to fly on Domestic Colombian routes between Bogota, Barranquilla, Medellin and Cartagena plus internationally between Cali and Miami.

The total value of Airbus aircraft order by Avianca is in excess of $4,700 Million and includes the direct purchase of 57 aircraft plus 3 through aircraft leasing company, CIT.

During 2008 Avianca will take delivery of eight aircraft: 4 x Airbus A319-100, 2 x Airbus A320-200 and 2 x A330-200.

At the ceremony the President of Avianca, Sr Fabio Villegas Ramirez said: " We are delighted to be able to offer our International and Domestic passengers the chance to fly on-board this new technology aircraft. With this new A320-200, Avianca will be able to lift our standards of efficient service and passenger comfort even higher. It is a vital piece in the attainment of our service and business objectives."

In response, the Senior Vice President for Latin America, Sr Rafael Alonso said "In Airbus, we feel truly proud to be part of the transformation and consolidation of the leading airline of Colombia and one of the foremost throughout all Latin America. We are sure that the benefits which the A320 offers will be highly valued both by the airline and its passengers."

For reservations visit Avianca.co.uk.