Dreamy? Titillating? Funny?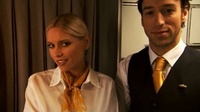 If this is your idea of an enjoyable flight, then Cheapflights.co.uk is the place to find it because its new viral marketing campaign is a real trip – literally! Cheapflights.co.uk, the UK's leading flight price comparison website has launched a viral marketing campaign specifically targeted to 18-34 year olds.
The interactive campaign entitled 'Enjoy Your Flight', plays to taking your dream holiday commencing from the moment you board the plane.
Before you begin, you're invited to choose between either a steward or stewardess, James and Joanna, to host you during the flight. From there, the journey takes off into video animation where the user interacts with a range of in-flight activities. There is also a risqué element involved, but only by choice upon rolling over the "fantasy" button.
The campaign is based on a gaming principle using real video in a first person scenario. Each clip was filmed in both "reality" and "dream" mode using real actors, and users have the ability to transition between the two. "Dream" mode is based on sexy, funny, flight fantasy, whereas "reality" mode is more sober.
"Enjoy Your Flight" was created in recognition of the fact that flying today has become more accessible to a growing number of young people in the UK who use the internet to find and book their destination of choice. In response to the increasing demand for non-traditional media among the 18-34 demographic, Cheapflights.co.uk has launched this intelligently titillating yet funny campaign with the objective of increasing brand awareness among this age group in a fun, cheeky way.
"We wanted to engage with a younger audience by using a top creative agency, harnessing the power of social media and popular video sites," says Joseph Sikorsky, Marketing Director for Cheapflights.co.uk.
"Not only is the creative here appropriate for this group, it also retains our brand value of memorable fun. By offering the user an experience of a "fantasy", it plays to taking your dream holiday, which Cheapflights.co.uk can help you plan," he concludes.
The campaign will primarily be seeded on Kontraband, Cheapflights.co.uk, social networking sites and video sharing sites such as Youtube and Metacafe.com. It has already reached over twenty thousand views in just two weeks.
If interacting with fantasy doesn't sound enticing enough, users will also be interested to know that at the end of their "fantasy flight" they can win £2000 by playfully filling out part of a UK landing card provided by their air steward/stewardess.