Avianca offer new way to San Jose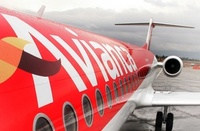 Avianca of Colombia have announced a new direct service between Bogota and -San Jose in Costa Rica. The flights will operate on four days each week - Monday, Wednesday, Friday and Sunday.

The services will be operated by Fokker-100 aircraft, with a seating capacity for 97 travellers, with eight in Executive Class and 89 in Tourist Class.

Avianca was recently awarded the route licence between Bogota and London by the Colombian Government. As yet no date for the launch for this new service has been finalised and Avianca continue to operate successfully into Europe connecting the Colombian capital, Bogota, with the capital of Spain, Madrid.

During 2008 it is expected that tourism to Colombia will increase dramatically following the March release of the blockbuster movie "Love in the Time of Cholera" which is set in the beautiful and historic Colombian city of Cartagena.

For reservations visit Avianca.co.uk.