Sky-gazers flock to see Northern Lights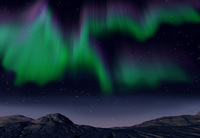 Every year in snow capped destinations across Scandinavia, Russia, Canada and Alaska, sky-gazers flock to see the Northern Lights, otherwise known as the Aurora Borealis.

The stellar phenomenon is caused by an interaction between the Earth's magnetic field and solar winds, which when combined, produce a mesmerising light display across the northern hemisphere.

The Northern Lights vary in intensity, depending on location and time of year. Sometimes they illuminate the skyline with a curtain of greenish-yellow lights, at other times they put on a spectacular show and glow bright red. Whatever their colour, the dance of the lights looks like a mystical firework display, and leaves a lasting impression on all who view them.

The best time to see the Northern Lights is between September and March. It is during these months that the solar winds blow at their greatest speed, as the Earth is at its highest heliographic latitude. A clear, cloudless night is essential, as well as being far away from any sources of artificial light if you wish to experience the sightings fully.

Although the Northern Lights can be seen in Scotland, travelling as far North as possible is essential in order to get a better chance of seeing the spectacle in all its glory. For the best view, book a Northern lights tour in Sweden, Finland or Norway - seeing the Northern Lights amongst the untouched snow and glacier coasts of the Arctic region makes the experience magical.

Sweden is the top choice for snow sports and sky shows. You can see the Northern Lights on The Adventure Company's action packed seven-day Active Arctic and the Ice Hotel holiday in Swedish Lapland. Highlights include reindeer sledding and igloo building under the gaze of the Northern Lights, and the trip also includes a night at the infamous ice hotel - another once-in-a-lifetime experience created by nature.

Families with younger children can make their way to Finland on The Adventure Company's Winter Wonderland Family Holiday. Top attractions include husky-dog sledding, snowshoeing and snowmobiling by day and sky gazing by night.

For more information, visit adventurecompany.co.uk.