New ways to see the Northern Lights in 2010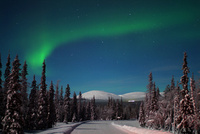 The Northern Lights may be as old as the earth but in 2010 there are four new ways to discover this awe inspiring phenomenon. Chase it down or wait for it to find you, these are experiences for couples and families alike.

Igloo Village Kakslauttanen (kakslauttanen.fi) is found 1085km North of Helsinki, but only half an hour transfer from Ivalo Airport. The team at Kakslauttanen is committed to offering the best views of the Northern Lights in the most comfort possible. The village pioneered with the first glass igloos, made of a special thermo glass which keeps the interior room temperature whilst not frosting the windows (even when its -30°C!).

New for 2010 is the Sky Panorama Bus, a unique opportunity for Aurora Hunting in the rugged landscape of Lapland. Available in the evenings from late August onwards, the Sky Panorama Bus is suitable for families and couples. The Sky Panorama Bus is the only bus in Finland equipped with a panoramic skylight. Prices for a three night stay, November to April at Kakslauttanen's log cabins and igloos start from £945 based on two sharing.

For something more 'hands on', Midnight Snowmobiling, also known as Aurora Safari combines the beauty of the Northern Lights with the thrill of snowmobiling…at night! In the evening visitors set out across ice fields towards specially chosen look-out points far away from any artificial light. Relaxing hot drinks around a comforting campfire are provided to top off this extraordinary experience.

The Aurora Safari lasts 1.5 hours and costs €63 per person, half price for children. It is based in the north central town of Kemi and runs a pick-up service from the neighbouring towns of TornioHaparanda and Simo Wanha Pappila. From December 1-23 excursions run Mondays, Thursdays, Fridays and Saturdays. From December 24-Jan 10 it runs every evening - safarisunlimited.fi.

If you prefer a more laidback approach to admiring the Aurora, perhaps the comforts of your own hot tub appeal? RukaVillage is a new high class hotel located in the very heart of the popular ski resort, Ruka. The larger apartments offer private saunas and outdoor hot tubs to relax and enjoy the spectacular Northern Lights with absolutely minimal effort, with perhaps the exception of raising your arm to sip your drink of choice!

Ruka is surrounded by arctic wilderness, frozen lakes and snow-sculpted forests and is located just below the Arctic Circle, close to the Russian border. This latitude ensures snow-sure skiing all season long (late November – early May), the climate and resort makes Ruka a perfect destination for couples and family holidays. Winter prices for seven nights at RukaVillage start at €710 per room which includes a double bed, fold out sofa-bed, kitchen, balcony and sauna. For more information and bookings visit ski-inn.fi.

For a totally different hotel experience, the Arctic SnowHotel has to come up trumps! As the name suggests the hotel is formed of ice and snow and is located just off the shore at Lake Lehtojarvi, close to Lapland's capital of Rovaniemi. Guests are supplied with a warm fleece lined sleeping bag to shield them from the cold winter night which can reach -30C, however temperatures in the room itself are maintained between a relatively cosy 0°C and -5°C.

Outside is a large hot tub where guests can relax and gaze skyward in search of the Northern Lights whilst sipping a soothing hot drink, also near by is a normal sauna and a traditional Finnish snow sauna, which proves a uniquely humid experience.

The hotel is child friendly; reindeer patting, snow playgrounds and mini-snowmobiles are guaranteed to bring laughter and be remembered for years to come. Rooms for couples are €110 per person per night and €500 for a family or group. The stay includes a guided tour of the ice hotel, warm and high-quality sleeping bags, shower and toilet facilities, a wake-up service including a hot drink and breakfast in the Log Restaurant. For more information visit arcticsnowhotel.fi.

Finnair flies to 19 destinations throughout Finland via Helsinki with return prices throughout the winter season starting at £204 to Turku, £213 to Ivalo and £265 to Kemi.

For more information about visiting Finland and observing the Northern Lights, go to visitfinland.com/uk.