Malta hails the London Taxi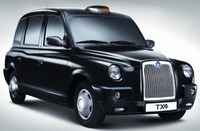 LTI Vehicles has secured further international orders for its London Taxi with the appointment of Muscats Motors Ltd as the official importer of the world famous London Taxi.

The announcement was made following a successful demonstration of the TX4 vehicle in Malta earlier this month. With delivery set for the end of November 2009, drivers and passengers in Malta and Gozo will soon be part of a taxi system that is hailed throughout the world.

"Maltese dealer Muscats Motors Ltd quickly realised the benefits of a tailor made taxi service that sets them apart from the competition," said Matthew Cheyne, International Market Development Director for LTI Vehicles. "There has been a fantastic reaction to our taxi during the launch. The Maltese say that the service brings them up to date with their neighbouring countries and makes them feel as if their country is coming of age."

The London Taxi Service is an added value service aimed at giving passengers a better quality of service based on the unique London Taxi.