Get a glimpse of Finland's winter wonderland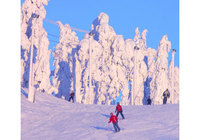 This October Visit Finland invites you to explore the magic of Finnish Lapland with a stunning collection of images and artifacts at the National Geographic Store in Regent Street and for the first time, will also be exhibiting at the Metro Ski & Snowboard Show.

From 8th October to 15th October 2009, the National Geographic Store in Regent Street will give visitors the opportunity to journey through snowy landscapes, marvel at the remote scenes of Finland's winter wilderness and be amazed by the spectacular Northern Lights displaying shades of greenish white, crimson reds and swirls of blues and violets. The exhibition is free of charge and will take guests one step closer to a real-life winter wonderland.

For those looking to combine the best of ski and snowboarding with a unique Lappish experience, Visit Finland and partners will also be exhibiting for the first time at the Metro Ski and Snowboard Show in London from 21st - 25th October 2009.

With slopes to suit all levels of skiers and boarders, guaranteed snow from mid-October to May, thousands of cross-country trails and scattered half pipes, superpipes and snow parks, Lapland can easily rival any other ski destination. What's more, the magical artic wilderness of frozen lakes and snow sculptured forests and the opportunity to take part in a range of activities such as a reindeer safaris, husky sleighing, snowmobiling and artic swimming, makes Lapland an authentic winter destination far removed from that of a typical ski or snowboard holiday.

For more information on the National Geographic Exhibition in London, visit nglondonstore.co.uk and for more information on the Metro Ski and Snowboard Show in London, visit metrosnow.co.uk/. For more information on Finland's winter offering, see visitfinland.com/wonderland.