World's strongest men take on Air Malta Airbus A320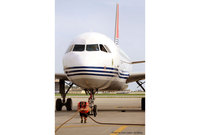 An Air Malta Airbus A320 180-seater aircraft, bearing registration 9H-AEN and weighing 45 tonnes, took centre stage last week during The World's Strongest Man competition held in Malta.

As part of the competition the final 10 athletes were timed during the pulling of the aircraft along a 25 metre-long stretch of runway.

The event will be aired in the coming months on international cable and satellite channels and is expected to have an audience of 85 million spectators in 70 countries.