Mercers awarded Best Real Estate Agency Spain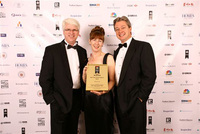 Thriving in a tricky marketplace, Spanish real estate agent Mercers has just seen a good year get even better with the announcement of a 'Best Real Estate Agency Spain' Award for the second year running.
Director of the 26-year-established southern Spanish estate agent, Chris Mercer, is keen to spread the good news, "We are so proud and indeed honoured to have won our second European Residential Property Award in association with CNBC Arabia for Best Spanish Estate Agent. What makes this year's award so memorable is that Mercers was the only in its category to win. This marks us out as a truly special company which in these tough times is a real pat on the back and recognition for all the hard work that the offices have put in over the past 12 months."
With two prosperous offices, one in Jerez on the Costa de la Luz and one in Mazarron on the Costa Calida, it's the last-mentioned office that has truly captured the spirit of today's Spanish property market. September was Mazarron's best sales month this year as the buying public are after bargains and that's exactly what they're getting. This Mercers office has two bedroom terraced villas on an established golf community from as little as 50,000 euros (46,000 pounds) and business is brisk.
Chris continues, "The bottom line is that price drives sales and our discounted properties offset any exchange rate concerns. In euro terms prices at our most popular resort, Camposol Golf, have fallen by about 30% and the vendor is content with repatriating increased funds back to the UK. We have no shortage of lifestyle buyers who are unaffected by the recession and looking to take advantage of our bargains. Meanwhile our traditional properties in Jerez, particularly those which conceal contemporary living behind an ancient façade, continue to capture the imagination of a discerning buyer keen on city living yet with access to southern Spain's best beaches. Our estate agency is in perfect shape and we're excited about what 2010 has to hold."
For more information, visit spanishproperty.co.uk.