De Montfort student to become the next big thing in lingerie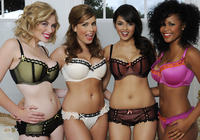 Curvy Kate the UK's big bra specialists, have teamed up with De Montfort University to find the next big thing in the fuller cup lingerie world.

As the only Contour Design course in the UK, the design students have been set the task to create a DD+ piece to fit the brand's modern and fun philosophies; making sure to focus on fit, style and support.

The students will have 10 weeks to produce a design to impress the Curvy Kate panel, providing extensive background research on how they reached the final product. The undergraduate to design the winning piece, which fits in with Curvy Kate's unique range, will see their work developed, as well as an all expense paid trip to Paris to have their design exhibited at Salon International, the leading lingerie design show in Europe.

Programme leader and Lingerie expert, Gillian Proctor explains why De Montfort University are delighted to have the opportunity to work with Curvy Kate. "So often in the contemporary Lingerie market the rising demand for beautiful, well cut and 'on trend' styles for larger cup sizes is not catered for. British women have the largest breast size in relation to rib dimensions in Europe and often the market place neglects this demand."

She continues: "This is an ideal opportunity for students to interact with the industry by directing their conceptual design potential towards these growing market areas. This will prove beneficial for all and we look forward to the outcome. There are few design courses that focus on plus size and as a growing and profitable industry we believe more undergraduates should look at the development of this expanding area."

The Panel will consist of the Curvy Kate team, Laura Savery Senior Lecturer at De Montfort University and Zabian Southwood, Editor of Lingerie Buyer Trade Magazine. The Top 3 designs will be chosen with a winner receiving the ultimate prize.

Curvy Kate offers everyday glamour to show stopping, burlesque style lingerie. Cup sizes are available from DD to J and back sizes from 28 to 40". The brand is made up of 6 ranges including the Angel, Portia, Princess, Emily, Ella and the Showgirl collection. Curvy Kate bras retail between £26-30. The brand has had an overwhelming reception since the launch in July and is now stocked in over 100 stores Worldwide, including the No.1 Big Bra retailer Bravissimo.

For more details or to see the range visit curvykate.com.