Slovakia offers an exciting new experience for skiers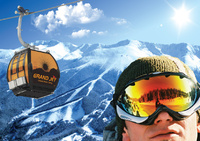 Slovakia is this winter's hottest new ski destination for British skiers, combining both quality and value. Starting on 6th December Slovak airline Danube Wings are launching a new route from London Luton, Manchester and Dublin, direct to the heart of Slovakia's Tatry Mountains at Poprad-Tatry.

The flights will take skiers to within just 15 minutes' drive of the ski slopes of Slovakia's High Tatras Mountains and around 50 minutes from the country's biggest resort of Jasna in the Low Tatras, and cost around 158 euros return (danubewings.com).
December also sees the opening one of the year's biggest ski construction projects of 2009, the new 13 million euro, eight passenger Grand Brhliska gondola lift in the Jasna resort.

The new lift rises from close to the Grand Hotel Jasna, 320 vertical metres from 1100m to 1420m and has a capacity of 2,400 skiers per hour, double that of the older four passenger lift it replaces. The new Grand Brhliska gondola will also be 328m longer than the old lift and is styled in striking orange and black livery, designed especially for the project by Doppelmayer.

Slovakia has a long heritage of attracting tourists from the neighbouring countries of Austria, Hungary, Poland, Czech Republic and from its own domestic market but is a relatively unknown destination for British skiers. Hotels are predominantly 4* and date back to the Austro-Hungarian era and offer high standard accommodation, while prices are around a third lower than mainstream Europe.

For the first time this winter Slovakia features in the Inghams Ski & Snowboard programme with prices from £477 for a week's half board ski holiday in a 4* hotel, with return flights and transfers.

For independent skiers bookings can also be made online at tatrymountains.com. Seven nights half board accommodation at the 4* Grand Hotel Jasna costs from £315 per person, including a 6 day lift pass, return flights with Danube wings cost approximately £145 (158 euros).