Under a different light – Skiing in Italy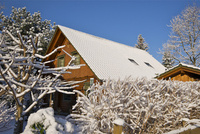 It may seem a little surprising to talk about having a holiday home in Southern Europe in order to enjoy some good skiing, especially if we are talking about Italy but in fact, if you are in the North, including Northern Tuscany (where near Pistoia you can ski in Abetone), you are likely to be only a short drive from some excellent and enjoyable skiing.
If you had your home in Liguria, for example at the Dominio San Sebastiano Resort in Bergeggi, you could be in the ski area around Cuneo (to mention just one in Prato Nevoso) in little more than 1 hours driving. One of the largest areas in Italy, Via Lattea, Milky Way, (which hosted the 2006 Winter Olympic), has got circa 400 km of pistes, and is less than 2 hours drive time. We are talking about real skiing here, if you consider that for example Val d'Isere in France accounts for circa 300 km of pistes. Luca Catalano of Realitalia says, "In reality you could enjoy a weekend at your sea view SPA at Dominio San Sebastiano Resort in Bergeggi swimming in the heated open air sea front swimming pool on the Friday followed by spending Saturday skiing on the slopes and you could still be back in the evening for a relaxing Sauna".
Dominio San Sebastiano is a holiday home resort promoted by Realitalia, a company specialising in high quality new builds and extraordinary renovations throughout Italy, all backed up by an exemplary concierge service and professional letting management. Since Dominio San Sebastiano is a holiday home resort, it offers the opportunity to get rental guarantee arrangements for those who are after a safe rental income from their overseas home and are looking to purchase with a mortgage, since rates are very low and the Euro is strong against the Pound. The Resort is perched on the Bergeggi hills over looking the clear blue Mediterranean and sits within a four hectare lush Mediterranean centenary park. It is just 40 minutes from Genoa airport and just under two hours by car from Nice and Milan.
This beautiful, brand new, eco resort comprises one and two bedrooms apartments and villas. All have views of the peaceful bay and with easy access to the private beach which can be reached on foot. Local town shops and cafes which are close by make this an ideal holiday destination. There are many attractions nearby including archaeological sites, golf courses, and with a short and beautiful drive, one can be in the South of France. There are opportunities for diving in the rich sea bed, trekking, cycling and bird watching. However, let us not forget that this is a year round destination with skiing at Limone Piemonte just 1 hour 30 minutes and Prato Nevoso around one hour distance. Concluded Luca, "This is a destination for all seasons; Dominio San Sebastiano makes an excellent holiday home both for personal use and letting, thereby maximising on the property investment by reducing void periods throughout the year".
Prices currently at Dominio San Sebastiano, Liguiria, Northern Italy: One bedroom flats (gardens and terraces) from £ 300,000 Two bedroom flats (garden and terraces) from £ 500,000 Villas (gardens) from £ 600,000
For more information, visit realitalia.co.uk.