Travelport seals full content agreement with Gulf Air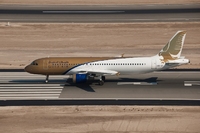 Travelport, one of the world's leading global distribution system (GDS) providers, and Gulf Air, the national carrier of the Kingdom of Bahrain, have announced details of a new global full content agreement that will give all Galileo and Worldspan-connected travel agents worldwide access to the airline's full range of published fares and inventory.

The new multi-year agreement marks the continuation of a long-standing relationship between the leading GDS provider and the pioneering airline, known for its traditional Arabian hospitality and award-winning in-flight product and services.

Lars Denlew, Director, Distribution and e-Commerce at Gulf Air said: "As part of our distribution strategy, we aim to offer our products and service to the global travel agency community at the best possible cost. Travelport is ideally positioned to support our needs through its very extensive worldwide network of users."

"With a respected brand and a strong regional and international route network, Gulf Air is a valued airline partner and we will continue to work closely with them to maximize their distribution capabilities and increase the accessibility of their fares across the globe," said Khalid Alkhalidi, MEA Director for Airline Supplier Services at Travelport.