Juicy spring make-up from Clinique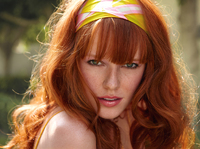 Inspired by the fresh, healthy feel of spring, Clinique's Spring 2010 collection offers a scrumptious selection of "good-for-you" eye, lip and cheek shades for a season of delectably modern and extraordinarily wearable looks.

Drawing inspiration from Clinique's latest lip innovation, Vitamin C Lip Smoothie Antioxidant Lip Colour, the lineup is fruit-inspired, juicy and packed with vitamins and antioxidants.

The focus of the collection is the limited edition Fresh Picked Allover Colour shimmering blush and the Fresh Picked Eye Shadow palettes featuring "fresh picked" shades for cheeks and eyes. And for an extra bit of fun, each individual blush palette and eye shadow palette is beautifully pressed with a yummy berry or pear pattern and packaged in a sleek, contemporary compact.

The collection offers a balanced, full-face look: a soft wash of colour on the eyelid, accented by a defined lash line and dressed up brow, rosy cheeks and a glossy, juiced-up lip.

The collection includes:

Limited Edition Fresh Picked Allover Colour
RRP £23.50 €34.00
Three complimentary fresh-picked shades of softly shimmering blush create sheer, subtle radiance and an allover glow. Pressed together beautifully in a delicious fruit-inspired pattern.
Available in: Mixed Berries

Limited Edition Fresh Picked Eye Shadow
RRP £18.50 €22.50
Two delicious pairings of softly shimmering eye shadow duos include complimentary hues that offer effortless sheen and subtle luminosity to eyes. Each compact has been delicately pressed into a fresh berry or pear design. Available in: Fresh Picked Berry and Fresh Picked Pear

Vitamin C Lip Smoothie Antioxidant Lip Colour
RRP £13.50 €19.00
This gorgeous, colourful lip product is bursting with "good-for-you" ingredients to provide treatment benefits, along with luscious colour to your lips.
Available in 6 mouth-watering shades: Pink Me Up, Goodness Grapecious, Nude-tritious, Fig-a-licious, Raisin the Bar, Rhubarbie

Eye Defining Liquid Liner
RRP £11.00 €17.50
An ultra-comfortable, luxurious, easy-to-apply gel eyeliner provides true high itensity colour in just one stroke. Available in: Black

Powder Brush
RRP £20.00 €30.00
This luxurious brush made of natural hair is the ideal tool for applying this season's Fresh Picked Allover Colour.

Eye Shadow Brush
RRP £10.00 €15.00
The perfect partner for Clinique's Fresh Picked Eye Shadow.

Limited Edition Happy in Bloom
RRP £23.00 €31.50
Just in time for spring, Clinique has bottled the pure essence and renewed energy that springtime brings with its new limited edition Happy in Bloom. This fresh, floral scent brings to mind a frosted spring morning with an aura of dew laden flowers. Happy in Bloom, which features the floral heart of the one and only Happy fragrance coupled with chilled, watery notes that give off a clean and cool feeling.

High Lengths Mascara
RRP £14.50 €19.00
This lengthening and lifting mascara stretches each and every lash to new lengths, while a unique curved "willow" wand applicator beautifully separates and defines. This curved fine-toothed comb finds the tiniest lashes and brings them out of hiding. Thanks to an infusion of lash-loving ingredients, lashes are kept soft, supple, beautifully conditioned and allover healthy looking. Eyes are left looking noticeably wider and fully energised. High Lengths Mascara is also ophthalmologist tested and appropriate for sensitive eyes. Available in: Black

Instant Lift for Brows
RRP £12.50 €17.00
Perfect brows and an instant "eye lift" all in one dual-ended applicator. This multi-functional beauty tool provides an easy way to groom eyebrows while simultaneously creating a more eye-opening, youthful appearance. The dual-ended pencil contains a brow filler on one end to fill-in, even-out and create perfectly defined, natural-looking brows. The brow bone highlighter gives brows a lifted look - opening up and brightening the face instantly. Packed full of vitamins and natural botanicals, Instant Lift for Brows is a simple way to look years younger without the fuss. Available in: Soft Blonde, Soft Brown, Deep Brown

Available at Clinique counters nationwide from 1 February 2010.