Star1 Airlines increases Stansted to Vilnius frequency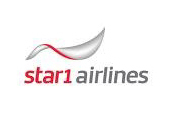 From April 29th 2010 Star1 Airlines is increasing the number of flights it operates between London Stansted and Vilnius.

By adding an additional flight on Thursdays the route from London Stansted to Vilnius will now be operated six times per week with no flight on Saturdays.

"The route between London and Vilnius is now well established with a strong base of regular passengers from both the business community and London-based Lithuanians" said Jurate Rupsiene, Communication Manager at Star1 Airlines.

The announcement of increased frequency comes in the week that a competing airline has cancelled all its regular flights between Vilnius and London Gatwick as of spring 2010.

As of April 29 Star1 Airlines will fly to London Stansted airport every day, except Saturday. This is already the second increase this year – as of January 2nd the company increased the number of weekly flights to London from 4 to 5. Star1 Airlines is a part of Star Team Group, which also incorporates the tour operator Star1 Holidays.

Currently the company operates direct scheduled flights from Vilnius to London and Milan.

For more information and bookings, visit star1.aero.