Sparkling spring makeup from Urban Decay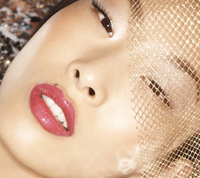 Get set for spring with Urban Decay's latest collection. Based on the decadence of Studio 54 and the mind altering performances of Ziggy Stardust you'll find an explosion of sparkle and twinkling prismatic shades.

Urban Decay brings a nod of hedonism to your beauty experience this season! Inspired by all things cosmic, Stardust shadows (£13.50) are a brand new collection of eye shadows. Containing powder fine bits of glitter (40% more than Urban Decay's other most dazzling shadows) there is no scratching, no fall out, just sexy sparkle. Wear them dry for a sheer veil of colour, or try them wet for an intense, vibrant colour. Available in 9 shades ranging from soft neutrals to bold brights.

Want porcelain-perfect skin and a modern natural finish? New Surreal Skin Cream to Powder Foundation (£18.00) is your answer! This lightweight formula transforms from a decadent cream to a micro-fine powder upon contact with skin. Lighter than a liquid, the buildable formula glides on effortlessly and feels as natural as your own skin – you can even wear it as a concealer.

Ultra Definition Finishing Powder (£17.00) provides extraordinary movie set-ready skin. The micro-fine powder fool the eyes with "optical blurring", imperfections are seemingly airbrushed away for a soft-focus Hi-Def finish. Skin will appear flawless, even under bright unforgiving light. It feels incredible, tiny water particles float along the skin's surface and actually burst, creating a microscopic ball bearing effect when the powder is applied. Genius!

24/7 Glide-On Eye Pencils (£11.00), the celebrity favourite (Tess Daly, Blake Lively, Audrina Partridge, Leona Lewis, Ladyhawke) are back with four fabulous new shades. Binge (a long awaited navy), Crash (rich egg plant), Mildew (dark green based on one of the brand's most popular shadows) and Oil Slick (black infused with shimmer) all join the best selling 24/7 family. Hooray!

Sin Primer Potion (£11.50) is a new two in one beauty miracle that combines the shimmering champagne shade of Sin, one of UD's best selling eye shadows, with the staying power of hero product - Primer Potion. Use it alone; it's a crease proof shadow! Maximise its potential by using it as a highlighter, dab on brow bone, eye corners and cheeks for a radiant finish. Sin works perfectly with any eye shadow and doesn't show through, experience vibrant colour all day, with absolutely no creasing!

Tim Burton, Urban Decay and Alice in Wonderland? It's an Urban Girl's dream come true! The beautiful limited edition Alice in Wonderland Book of Shadows palette (£28) will be available to buy throughout March from Debenhams but once it's gone, it's gone! Set to be a total sell out, bloggers are already going crazy over 2010's worst kept secret!

Urban Decay is available from selected Boots, Debenhams and House of Fraser Stores.