Air Europa provides new passage to Peru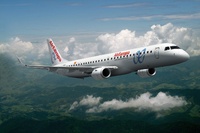 Yesterday, Latin American specialist Air Europa officially launched the new London Gatwick to Lima service, via Madrid.

The programme of three weekly departures to the Peruvian capital follows the successful introduction of the summer and winter schedules, as well as twice daily flights from London Gatwick to Madrid in March 2009.

"Following a positive 2009, we are happy to have established this exciting new route from London to Lima, via Madrid" says Colin Stewart, UK General Manager, Air Europa.

"Competitive pricing and a commitment to excellent customer service has facilitated the expansion of our destination portfolio in South America. Something we hope to build on in 2010".

With prices starting from as little as £555.30 per person, return, onward flights to South America and the Caribbean are more affordable than ever before for UK passengers.

For more information on Air Europa, go to aireuropa.com.