Only the best taxi service for Ukraine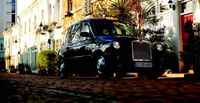 The excitement has been building in Ukraine with the imminent arrival of the newest car on the road. Not long from now the streets of the nation's capital will see the famous lines of the legendary London Taxi as Kiev becomes one of the first cities around the world to introduce the iconic vehicle.
The iconic London taxi is built in Britain and China by the same company who designed it over 60 years ago. "We know more about taxi design and manufacture than anyone," said Matthew Cheyne International Market Development Director, "and it's that expertise that we are bringing to Kiev."
The current version of the famous taxi is built in China to British standards by LTI and their joint venture company Geely and will be operated by both individual drivers and limousine companies to introduce a new London style service. Drivers will be trained in customer care techniques and given lessons on sightseeing tours so they can point out places of interest to their passengers.
Hotels already want to take advantage of the unique service as they extend the facility to their guests to make their stay even more enjoyable. Local companies and businesses will no doubt want to utilise the taxis for when foreign business people visit as they are so used to seeing and using the taxis in Britain and other countries.
Matthew said "we have been working for a long time to produce a cost effective vehicle that doesn't lose any of the values that the taxi has in the UK. It is the same design and is as robust as the one we build in Britain but is a lower cost.
We know it is going to prove popular here in Kiev as we have had numerous advance enquiries about how to buy the vehicle. Now we are looking for a partner who will import the vehicle into Ukraine and provide sales and aftersales back up. This is a unique opportunity to gain an advantage over your competitors and we are sure that very soon we can have a full launch of the vehicle over here and start seeing the taxi being used on the streets of Kiev."