Saying "I do" to the stunning region of Calabria, Italy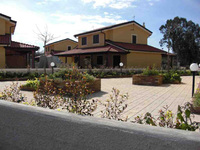 Italy is viewed by many as the land of love, frequently topping charts as the most romantic destination in the world. With its cities boasting some of the worlds most amourous architecture and lush landscapes encapsulating rustic romantic, it is not surprising that more and more couples are choosing Italy as the location for the biggest day of their lives.
For partners Tom and Paul from Ireland who relcoated to southern Italy in 2009, the charming region of Calabria is the perfect location for couples to celebrate their love. Paul explains.
"The Pizzo area of Calabria where we purchased our two bedroom apartment has a real Italian community atmosphere and we are inspired so much by the region that we now encourage others to come out here to experience the land, culture and even consider getting married here."
Steven Worboys, Managing Director of overseas property experts Experience International whom the couple bought their property through goes on to say:
"From 2006 to 2009 the average UK wedding cost rose by 8% to a whopping £20,000 so no wonder more and more couples are looking abroad for their big day. Italy offers a dream location which is often much more affordable, it is no surprise that up to 50,000 couples now get married abroad each year."
The increase in numbers choosing to marry abroad has also positivley affected local tourism and property rental markets such as that in Calabria due to the demand for accomodation from not only the wedding party but also family and friends. An encouraging sign for those who own properties for rent in the area.
Now that Tom and Paul have said "I do" to a new life in Calabria they have embarked upon an exciting business venture offering wedding planning services to couples looking to marry in the region, as Tom says, "it's all about helping inspire, plan and facilitate the big day.
"Being based in the country and having been given invaluable advice by the team at Experience International in terms of location we are now in a position to help others seek the perfect location for their wedding. Here are our helpful hints:
1. Location - Although choosing to marry abroad is becoming more popular we would recommend couples come and get a feel for the Pizzo community and surrounding areas before committing. Budget flights are available from the UK direct to Calabria year round.
2. The Venue and Accommodation - Calabria is indeed opening up to tourism yet new construction is strictly zoned and controlled to avoid overdevelopment. Accommodation options vary from guest houses to hotels but we recommend the flexibility of private apartment and villa rentals and to book well in advance.
3. Ask for help - Employing a local coordinator who can facilitate your needs may seem like an unnecessary cost but with local custom and language barriers this in our opinion is essential for a stress-free experience.
4. Plan ahead - If you desire a church wedding then the venue may need to be booked 12 months prior to the day. There are other options such as civil service although up to 4 months notice is also required for the necessary paperwork.
5. Set a budget - As you would with a traditional wedding in the UK set a realistic budget and stick to it. Contact local supplies to research costs and work with your coordinator to secure the best deals.
So if this has got you inspired to have your wedding abroad and you would like further information on planning a wedding in captivating Calabria contact Paul and Tom at their company Calabrian Management Services calabriamanagementservices.com.
If in equal measure you are even inspired by Tom and Paul's story and would like further information on buying a second property in the region just visit experience-international.com.