Ford Focus RS upgrade kit launched as RS500 sells out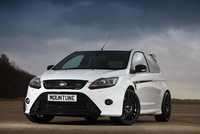 With all 101 Ford Focus RS500 models snapped up by UK fast Ford fans within days of launch, Ford is responding to the intense customer demand with an officially-approved Focus RS performance upgrade kit.
Ford Focus RS owners can now give their 'regular' 305PS superhatch an extra 45PS and 20Nm of torque.
This allows those who could not secure one of Ford's ultra-limited-edition, matt black RS500s to upgrade any latest-generation RS to match the power – if not the exclusivity – of Ford's fastest-ever Focus road car.
Developed by Ford Team RS, in partnership with Mountune Performance (MP) and offering similar performance to the RS500, the MP350 RS upgrade will be launched through selected Ford dealers across the UK.
Comprising a larger intercooler and air filter box, larger diameter exhaust downpipe and a higher-capacity fuel pump, along with uprated software calibration, it remains the only officially-approved Focus RS upgrade package.
Mark Simpson, Ford Britain marketing director, said: "Focus RS500 has raised the Ford performance bar in every way – it's the fastest-selling model in Ford's UK history, with five times more customers than we had cars for. The MP350 kit has been developed to meet some of this additional demand and allow enthusiasts with cars in standard tune to enjoy even greater performance, without endangering their warranty. If you couldn't get an RS500, which sold out within seven days, this is the next best thing."
Following the rush for an exclusive RS500 in the last days of March, Ford is allocating the UK's 101 right-hand drive versions to dealerships in proportion with their share of overall Ford Focus RS sales.
The MP350 RS upgrade kit is £1,995, including VAT. Further details are at mountuneperformance.com.