The Italian Collection - A cornucopia of luxury homes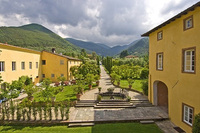 Unique Living is proud to announce the launch of its "Italian Collection". A cornucopia of luxury homes for the truly discerning.
According to Serge Cowan, MD at Unique Living, "Italy's property market has increased in popularity in recent years with VIP's buying some of the most prestigious residences on the market.
We were aware that the country was affected far less adversely than many others during the world's downturn and this brought us to the conclusion that the time is right to include Italy in our Portfolio.
The banks in Italy were not as greedy as many others, therefore there were not so many debts, nor were the banks precarious through mis-selling and avarice. The result is a comparatively stable market in a sublime country. With easy access to all of Europe and the Far East we have noticed a growing demand from buyers for prestige and unique homes especially in Tuscany and the cities such as Pisa and Florence. We are happy to say that we have a fine collection now available".
Unique Living's portfolio of properties in Italy includes prestigious villas and luxury homes in Como, (including Lake Como), Liguira on the Italian Riviera, Amalfi, Penisola Sorrentina and Capri. Unique Living will also be offering superior homes in Tuscany, a perennial favourite and also Umbria, which is much loved too because it has much of the magic that is Tuscany and offers excellent homes for those with a more modest budget.
Unique Living has been established since 2002. It is a boutique style agency offering a highly professional and personal service, providing clients with discreet and helpful advice in locating a luxury home overseas and guiding them through the purchasing process.
There is a wide range of superior properties available at uniqueliving.com including –
Arezzo, Tuscany.
A delightful villa close to the arts centre of the Val di Chiana and the province capital town of Arezzo.
The complex comprises an historical 480 sq m villa with six bedrooms plus dependence for guests and three cottages. In addition there is a lemon house and pool with panoramic views. The complex is set in seven hectares.
This property is ideal for rental owing to the number of buildings which are ideal for guests.
3,200,000 euros.
Lucca, Tuscany
A magnificent, historical estate 8 km from Lucca comprising a majestic main villa and two rustic stone farmhouses set in a lush and graceful Italian garden. The main villa dates back to 1500 with added 18th century frescoes. The enchanting walled garden has featured in a book on elegant Lucchesi villas. There are ancient grottos, a grapevine pergola, fountains and swimming pool. In addition there is a gym and tennis court. Features include Tuscan silk curtains, marble fireplace, fine antiques and grand piano. The 21 bedroom villa with 25 bathrooms occupies 1500 sq m of living space.
16,500,000 euros.