Take your summer makeup on safari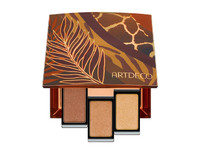 Inspired by the picturesque continent of Africa, ArtDeco's new Safari Bronzing collection for summer 2010 features warm bronze and gold shades for a sophisticated natural tan that is simply irresistible.

Adored by celebrities, including Michelle Keegan, Tara Palmer-Tomkinson and Suzanne Shaw, ArtDeco's covetable Safari Bronzing collection is guaranteed to be on your wish list.

Get the look of a golden goddess with ArtDeco's Limited Edition Bronzing Powder Compact SPF 15 in 2010 design, £31.00. This fabulous dual bronzing powder is water repellent and contains two sun-kissed shades; allowing the bronzing intensity to be varied, complete with a safari embossed motive that encompasses the flair of Africa. Enriched with nourishing Inka Oil, this light transparent tanning powder provides a natural matt finish. Available in Safari Sunrise No.5 and Safari Sunset No.9 for a natural looking tan all year round!

For gorgeous golden eyes that sparkle, indulge in ArtDeco's Limited Edition Beauty Box Trio 2010, £10.70. A genius magnetic refillable beauty box, which contains three high pigment ArtDeco duochrome eyeshadows in Cedar Brown No.229, Shiny Bronze No.228 and Golden Sun No.225, £5.30 each. A 'must have' for your summer make-up bag.

For radiant sun-kissed cheeks apply ArtDeco Limited Edition Beauty Box Bronzer 2010, £10.70. A fabulous refillable and magnetic long lasting powder blusher in Sienna Blush No.03, £9.30, for a beautiful golden glow that you will adore!

For luscious lips apply Limited Edition High Protection Lip Stylo SPF 30, £17.00. This multi-purpose lip stylo protects lips against UVA and UVB rays and contains Macadamia Nut Oil to nourish and prevent dry chapped lips. Vitamin E hydrates and Gamma – Oryzanol (an antioxidant derived from rice) prevents free radical damage. The ultimate lip service for a perfect summer pout!

Illuminate your face with the Limited Edition Travel Kabuki, £11.99. A practical travel size brush made of premium dense goat hair to provide an even application of the powder on the skin. The perfect accessory for beauty on the go!

For a super flawless complexion apply the Limited Edition Face Bronzer Spray On Formula, £28.00 for an immediate and even tan, enriched with Vitamin A, E and hydrating Panthenol. The bronze tone creates a light summer complexion and contains a micro diffusion system that gently and evenly covers the face for natural finish. Apply with spray, make-up brush or finger tips.

For gorgeous golden pins this summer try ArtDeco Spray On Leg Foundation in Sand No. 3 and Sun Tan No. 5, £27.50. This water resistant bronzing spray conceals uneven skin tones, dries fast and is long lasting, enriched with Vitamin E and Green Tea. A must for super sun-kissed legs.

Available to buy online at Garden.co.uk.