Ford StreetKa UK's best second-hand convertible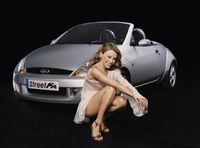 Ford's StreetKa is the best second-hand convertible of the last ten years, according to research by online retailer Carsite.co.uk.
To mark the start of the peak buying season for convertibles, Carsite evaluated the reliability, depreciation, running costs and customer satisfaction of the most popular second-hand models to create a list of the twenty best used drop-tops.
Top of the drop-tops was Ford's StreetKa. Based on the iconic Ka model, the StreetKa convertible was launched in 2003 with the help of pop superstar Kylie Minogue. Aimed at a growing market of female new car buyers, the StreetKa is one of a few models from the last ten years to be popular in a pink paintjob.
The stylish two-seater Ford drop-top only just beat the hugely successful Mazda MX5 to the number one spot. The MX5, a popular model going for more than 20 years, has continued to win the hearts and minds of UK drivers thanks to its stylish appearance, reliability, enjoyable drive and its value-for-money approach to the convertible. Third place was the MINI One convertible, a firm favourite for UK car buyers.
Carsite's Alistair Jeff commented; 'Unlike some 'top twenties' that contain exotic and expensive models such as Ferrari and Lamborghini convertibles, Carsite wanted to produce a list that relates to the real UK motorist. These models were tallied based on factors such as value, reliability and ownership satisfaction – key concerns for the average used car buyer. The Ford StreetKa took the top-spot with a strong performance across our used car criteria.'
British car drivers are among the biggest buyers of convertible models in Europe, with prices of the most in-demand models fluctuating by almost £2000 over the 12 month buying cycle. The busiest period for buying drop-tops is the summer, where Carsite found some prices were almost 20% more than in the middle of winter.
Carsite's research also found that convertibles retain, on average, between 4-5% more value than their hard-topped equivalents. Some models, such as the Mini Cooper Convertible, are expected to retain 7% more value over 3years/36kmiles than the hard-top model whilst a Saab 9-3 Convertible should hold on to 15% more value than the Saloon version.