Gulf Air resumes flights to Najaf in Iraq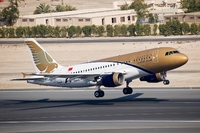 Gulf Air has resumed its flights to Najaf International Airport following the reopening of the airport.

Gulf Air Chief Commercial Officer Kyle Haywood commented, "I am pleased that the Iraqi authorities have reopened the airport and hope that passengers may not face any more disruptions. I would like to take this opportunity to thank our customers for their patience during the closure of the airport."

Gulf Air's daily flights to and from Najaf will be operated as per normal schedule as below (all times local):

Depart Bahrain: 1015 hours
Arrive Najaf: 1150 hours

Depart Najaf: 1300 hours
Arrive Bahrain: 1430 hours

Customers can book their ticket online at gulfair.com, through travel agents or their nearest Gulf Air office.