Surf your way to beach body perfection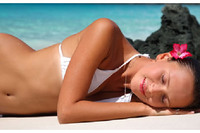 This summer, show off a fit, toned stomach that's more surfboard than washboard with the help of Virgin Active Health Clubs. The gym and health club brand has linked up with clothing and lifestyle guru Roxy to create an exclusive group exercise class designed to bring out the beach goddess or surfer dude in one and all.

Available only at Virgin Active Health Clubs nationwide, the Roxy Beach Body Workout conditions four core areas: strength, balance, flexibility and power. These elements of your physique are the essence of the 'pop up' move that propels a surfer from their prostrate paddling position to the exhilarating upright stance required to ride the waves.

Thankfully, Virgin Active Health Clubs' diligent fitness experts developed the unique workout to suit both surfers and non-surfers - so whether you're getting in shape for the sun lounger or the surfboard, you can be sure to look the part either way.

This brand new health club beach body workout will no doubt make Virgin Active Health Clubs a popular fixture in thousands of summers - not least because of its quintessentially summery soundtrack. Classic dance tracks from the likes of ATB, Darude and Eric Prydz evoke the breathless excitement of Ibiza evenings as you and your small group warm up and join in the fun drills, aerobic routines and equipment-based circuits.

Qualified, energetic health club trainers make full use of various state-of-the-art fitness equipment, including ViPR, BOSU balls and Giding Discs, to see that no two workout sessions are ever the same. Then, once the hard work is done, simply close your eyes and imagine the sand slipping through your toes as you enjoy a wind-down yoga section against a backdrop of chill-out music.

The Roxy Beach Body Workout is exclusive to all Virgin Active Health Clubs members nationwide – and with no joining fee this month, it's the perfect time to get started. So make the first step towards your beach body today; just go to virginactive.co.uk to find your nearest health club and the time of the next session.