Seriously sensational colour from essie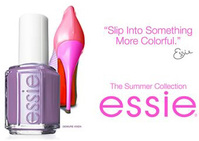 Summer is special. Aside from the wonderful outdoor activities that we wait for all year, we also revel in the opportunity to now wear lighter, brighter and more playful clothing.

Finally, we can shed the wool and mohair for cotton and linen. The keyword for summer is: fun! So indulge in seriously sensational colour. Don't be shy — make it the time to play with bold, playful color combinations.

"This year's runways reflected the ease of the season with youthful, fun to wear clothing in feminine fabrics," explains Essie Weingarten, President and Founder of Essie Cosmetics, Ltd. "I was inspired by the vivid pastels at Versace and the splashy florals at DKNY. I created this collection to reflect the youthful, fun-to-wear flirty frocks." The summer fashion trend is all about mixing and matching, and the summer colour palette allows for the same fun and freedom. Choose Miss Matched for fingers and Pretty Edgy for toes, or whatever you fancy – since there is no more matchy-matchy!

The Colours: A palette of shades created to complement the essence of summer!

Miss Matched – Sweet, sheer, ready for anything pink
Haute As Hello – Racy, scorching coral
Knockout Pout – Hot supercharged pink
Vermillionaire – Heart pounding red orange
Demure Vixen – Iridescent cocoa mauve
Pretty Edgy – Vivid palmetto green

The Summer Collection is available from nailsbymail.co.uk for £9.50.