The fastest way to a brighter smile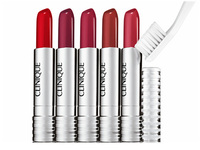 Clinique's Lip Collection for a brighter smile offers specially designed lipstick colours certified to make teeth instantly look whiter. There could not be a quicker way to brighten your teeth.

On application, Clinique's specially designed lipstick colours create a contrast that brightens your smile. Using a dental colour guide during clinical testing, Clinique confirmed it: each smile was at least one shade brighter.

"After examining panelists in Clinique's clinical testing labs, I noticed that teeth appeared at least one shade whiter after the application of these specific shades. The results were truly outstanding. The subtle blue tones and contrast in each colour instantly brightened the appearance of teeth" said Dr. Paul Siu, New York City Dentist.

And, no need to keep this secret to yourself. With eleven shades – each already a Clinique favourite – in pearls and buttery shines, anyone will be able to find complementary colours for picture-perfect smiles.

High Impact Lip Colour SPF 15, 3.8g RRP £14.50 €19.00
After Party (violet)
Go Fig (nude)
Peach Pop (tawny)
Red-y to Wear (tawny)
This multi-tasking formula provides immediate moisturisation, is long wearing, feather-resistant and has stay-true colour all while helping to provide protection from the sun's harmful rays.

Colour Surge Butter Shine Lipstick, 3.8g RRP £14.50 €19.00
Cranberry Cream (tawny)
Raspberry Rush (pink)
Pink-A-Boo (Pink)
While quenching that insatiable desire for shine, this new generation lipstick formula offers a soft, buttery texture along with the convenience, comfort and grown-up glamour of lipstick that never goes out of style.

Different Lipstick, 4g RRP £14.50 €19.00
Ice Bloom (pink)
Raspberry Glace (violet)
A Different Grape (violet)
Not-so-shy colours that see right through to the skin. A glossy, weightless finish. Instant polish for lips and succulent colour that won't stain lips. Non-drying. Different Lipstick hydrates delicate lips with avocado extract, Beeswax and Vitamin E.

Long Last Lipstick, 4g RRP £14.50 €19.00
Twilight Nude (nude)
Every tube of Clinique Long Last Lipstick treats lips to hours of creamy, comfortable coverage that won't dry out, feather, crease or cake, thanks to advanced moisturising ingredients and pigments that cling to lips for an incredibly smooth, even colour that stays true and stays put.

Allergy Tested. 100% Fragrance Free.

All lipsticks available at Clinique counters nationwide and online at clinique.co.uk.