The 'Passion of Christ' and the 'Passion of Italy'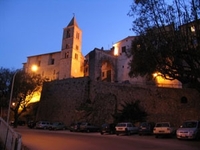 Vera Mitchell, is a highly sought after wig and hair designer, and has been appointed on many major films to look after such stars as Paul Newman, Russell Crowe, Sean Connery and Al Pacino. In fact, it was whilst filming in Rome for "Passion of Christ" with Mel Gibson that Vera flicked through a magazine and immediately fell in love with a home which was part of a castle village in Lazio. Her driver offered to take her to visit between filming and she was not disappointed. So excited was she, that the next day, most of the crew went with her before she made her final decision to buy!
"It truly was love at first sight", says Vera. "I have travelled the world through my business and I have been lucky enough to visit many exotic and glamorous locations. However, Castello Bocchignano, in Lazio, had the beauty, ambience and splendour that appealed immediately. It is also less then an hour from Rome".
In the hectic world of renowned stylist, Vera Mitchell, finding a tranquil haven close to amenities and airports was perfect. Vera also chose it to write her memoirs which she has aptly named "Reel/Real Life".
"I fell in love with the spacious house with its two very large living rooms, one of which has a 25 foot high fireplace. There is also a beautiful conservatory with lovely country views and two good sized balconies big enough for tables and chairs so one can sit with friends. There is a brand new kitchen and the beams throughout have been restored. The home also has a private garden. Nearby are lots of lakes for swimming and of course the area is renowned for its wine and delicious olive oil. The home offered me the grandeur of being part of a Castle steeped in history, and the pleasure of a manageable sized home. With three bedrooms and three bathrooms, it was also ideal for friends to stay".
Added Vera,"I have had a wonderful time here but my mother is almost 90 years old and lives in the UK and I need to locate nearer to her. I shall be sad to move but anyone buying the property will, I feel sure, fall in love with it, just as I have".
Lazio 2023 Castello Bocchignano
This beautiful attached house forms part of the splendid Castle of Bocchignano with a wealth of history. The property has been restored to the highest standard and the town of Bocchignano is located close to Montopoli di Sabina and yet less than an hour from Rome.
The spacious house provides some 165m2 of accommodation and consists of:
2 very large living rooms (one with 25ft high fireplace); 3 bedrooms, 3 bathrooms (2 with bath, 1 with shower), a conservatory with beautiful views and 2 balconies (one with room for table and chairs), new kitchen, dining room with fireplace and cellar. The beams have all been restored and the property has been finished in keeping with its character. Central heating has also been installed and unusually the property has a small private garden. This is a peaceful area away from the tourist route and yet with lakes for swimming and lots of wine and delicious olive oil to try. We recommend you view this property to appreciate its full character. It would be possible to separate the property into 2 apartments.
Price €300.000
For more information, visit casatravella.com.