Amusing, archaic and absolutely fabulous!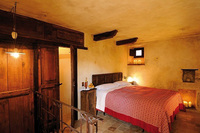 Are you looking for a holiday home investment that is unique? Then Santo Stefano di Sessanio offers that and more.
Santo Stefano di Sessanio is a fortified medieval burgh rising on a pre-existent Italic-Roman site. It is located at an altitude of 1250 metres deep in the heart of the Apennine mountains near L'Aquila inside the Gran Sasso & Monti della Laga National Park, in Abruzzo.
The village's structure was established in the Middle Ages and has maintained its historic and architectural heritage. The remarkable buildings created through years of civilization has left a cornucopia of courtyards, patios, alleys, covered porticoes, arches, loggias, portals and stone fireplaces. It is a paradise of architectural evolution surrounded by open pastures and terraced fields.
Today, this monument to some of Italy's finest history has been made habitable and homely to enable discerning buyers to truly enjoy a unique and fascinating habitat.
"We think the word 'amusing' sums up our completed homes", says Luca Catalano, Director at Realitalia. "The renovated abodes make perfect holiday retreats; allowing owners to sink into the ambience of yesteryear whilst benefiting from the pleasures of 21st century living".
Sextantio homes have the same level of careful creation and management as the restored boutique hotel also in the village. In accordance with the Realitalia Business Model, they are professionally managed by the award winning Albergo Diffuso itself (an hotel where rooms are naturally spread throughout the medieval village). The online rental service and other services have been specifically created to give homeowners an opportunity to relax in their Italian holiday home and enjoy themselves. The joint venture of Sextantio, the restoration company that created the extraordinary Albergo Diffuso and these fantastic homes, and Realitalia brings together expertise of the highest calibre to provide a quality investment, second to none.
For example currently available in Lot A is "The House with the Grotto" which has been completely re-discovered and restored with the greatest attention to details, including a rounded grotto, where a bathroom has been installed. This house is in the heart of the town and this property has views of the main piazza with its specialty shops and stores. The living area boasts an original fireplace. This property is on the market for circa £ 200,000 (plus transaction costs and tax).
Continued Luca, "This is just one of many different homes we are currently marketing. One cannot over emphasize the fact that buyers own a unique property. That is part of the fascination."
Currently sterling to the euro is improving rapidly and buyers are noticeably coming back to the safe overseas market place of Italy. Realitalia has sold three properties to British buyers in the last few weeks and such is the popularity of Santo Stefano in Abruzzo prices on 31st August 2010 will rise by 7%.
"If you reserve your Sextantio home in Santo Stefano at the current advantageous terms also taking into account the strength of the pound against the euro, plus you are benefiting from a fully furnished property, buyers will realise the true extent of their investment in the years to come", concluded Luca.
A full colour brochure, in English, can be found on the Realitalia web site. If you would like an actual brochure this can be secured by contacting the company direct.
SANTO STEFANO, ABRUZZO
Wide choice of homes starting from around £165,000 (plus transaction costs and tax). Fully furnished, fitted with original locally sourced items.
Backed by Realitalia full service Management Programme. (Owners can promote, schedule and book holiday makers through an online rental service which includes on site concierge service.)
For more information, visit realitalia.co.uk.