Be prepared for the trip ahead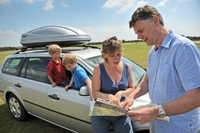 The long awaited August bank holiday is just around the corner and many of us will be heading off on day trips, camping trips and much more besides.

But how often do you find yourself driving down the wrong track?

Granted car journeys can be stressful enough as it is, with the children fidgeting and getting impatient in the back, we all want to get to our final destination as soon as possible.

However research shows that two thirds of us regularly get lost behind the wheel and over a third of us pretend we know where we are going even though we so clearly don't.

And why is this? Well it appears many of us are relying on out of date maps and satellite navigation systems, meaning these driving disasters are completely unnecessary.

In the following video Paul Beauchamp from Ordnance Survey shares his tips to make sure you stay on the right track every day.