Sardinia - A superior destination at prices you can afford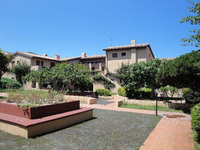 Would you like to purchase a property abroad which is elite, exclusive and frankly favoured by the rich and famous?
When you look at the South of France do you shudder at the prices? Then have you considered Sardinia? "A" listers, Mick Jagger and Naomi Campbell have been holidaying there for years. This summer Britain's number one tennis professional, Andy Murray, visited following Wimbledon and already Wayne Rooney and Frank Lampard have been spotted enjoying the Cost Smeralda. With Paul Allen the co founder of Microsoft often known for yachting to the clear waters and a wealth of 5* hotels by the coast, this is a land of Euro glitz and you could be a part of it.
Sardinia is a hidden gem; just slightly under the radar of Monte Carlo, Cannes and St. Tropez, it nevertheless offers an internationally exciting ambiance tempered by fashionable, smart, Italian style resorts with chic restaurants, pretty boutiques, cobbled streets and low rise buildings surrounded by exceptionally unspoilt countryside and glorious white sandy beaches leading to the blue glistening Mediterranean sea.
Does this sound too good to be true? Well did you know you can actually secure a newly built apartment with two bedrooms, two bathrooms, large veranda and private parking for as little as €160.000 in the pretty town of Valledoria?
"There are two airports, Alghero and Olbia, both of which are serviced by budget and scheduled airlines", says Linda Travella of Casa Travella. "I have visited many times and you will be very surprised at the number of affordable properties, with beautiful sea views and access to glorious sandy beaches.
You can be close to the rich and famous but just pay much less. Porto Cervo is the place to go and visit and rub shoulders with celebrities. The Italian Prime Minister Berlusconi even has a villa in Sardinia although this is a little inland and quite hidden.
The building in Sardinia is carried out in a way that is in keeping with the environment and if you want a tranquil location but with all facilities to hand this island is for you. New build is common and the island was only developed by the Aga Khan in the 1960's, so don't look for the old farmhouse to restore.
There are buildings inland which were once used by shepherds, but these are limited and therefore prices are quite high. A Stazzo, as they are called, is for sale close to the villa of Berlusconi. This property needs total restoration and is just 1km from the sea and 10 km from Olbia airport. It will make a spacious property with 5 bedrooms and 4 bathrooms and is being sold with 5 acres of land with a Price of €375.000.
However, prices start as low as €85.000, with €160.000 buying you a new 2 bedroom, 2 bathroom apartment in a small residence in the centre of Valledoria, just 1km from the sea.
For the price of a one bedroom apartment in Porto Cervo you can find a 2/3 bedroom property close to the sea at Castelsardo , or Valledoria just a little further west of Santa Teresa di Gallura, so it is worth doing your homework or speaking to an expert.
If you want direct access to the sea, there is a lovely apartment just 100 metres from the water's edge at Castelsardo with a pool and tennis court. It has 2 bedrooms, 2 baths, a sea view and 2 verandas and a garage. A steal at only €270.000.
Concluded Linda, "If you have never visited Sardinia then you are missing a unique living environment. The Smeralda coast is famous for rich celebrities parading alongside the marina. If this lifestyle excites you, or the gentle ambiance of an unspoilt island just two hours flight time from the UK, then consider Sardinia - the "sexy" place to own a home".
For more information, visit casatravella.com.