Brazil property market - Exponential bubble-free growth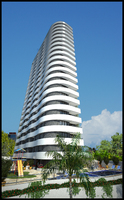 In Brazil it's actually both fun and rewarding to be an estate agent right now. Soaring economic growth (8.8% GDP for Q2 2010 – higher than anticipated) coupled with progressive government programmes aimed to give low-income families easier access to mortgages means that there are literally queues of people signing up for off-plan property. Foreign investors must take note.
With interest rates plummeting into single figures in 2010, mortgage lending has risen by 77% during the first half of the year in comparison with 2009. As a result the construction industry has outpaced GDP by growing 15% over the same period. But experts are adamant that this is not the onset of an unsustainable property bubble. For they have had the benefit of learning from the rest of the world.
Samantha Gore, Sales Manager for Brazil real estate specialists www.uv10.com, explains, "Brazil is not the US and neither is it Bulgaria, Spain or Dubai. Whilst US banks granted up to 130% loan-to-value, in Brazil these rates are being curbed to a far more sensible average of 60%. Meanwhile, whilst the booms of Bulgaria, Spain and Dubai were fuelled by, and dependent on, foreign speculators and holiday home hunters, the future of Brazil's property market is assured by its own population."
Samantha continues, "Brazil's Real Estate Developer's Association states that eight million families, or 30 million people, do not have their own house to live in and are currently renting sub-standard accommodation. This need, along with subsidised mortgages for pool Brazilians, will generate demand for new homes for at least the next 15 years. uv10's clients have little to fear when investing in off-plan property targeted to this ownership hungry audience."
A burgeoning aspirational middle class combined with new access to mortgages adds up to unprecedented house buying with many clamouring up the property ladder and fighting for the best locations. According to www.uv10.com it is this sector of the market where foreigners should be investing for the best exit strategy and massive profits. In Natal (Capital of Rio Grande do Norte) there is only one 'best area' and that is Petrópolis.
Samantha continues, "We work with a 20-year established developer who offers off-plan properties well under market value to foreign investors as they pay in full and more quickly - 100% throughout construction. This enables the developer to seamlessly roll funds into his next project. They will also, with the help of a network of local agents, either organise the resale of your property to the local market or rent it out - with or without a rental guarantee, as you wish. As we're talking about city centre locations, neither the market price nor rental income is speculative but instead reflect thorough market studies."
uv10.com is offering recently released units in Edificio Dr Geraldo Furtado uv10.com/designer-apartments-in-Petropolis at 20% below market value. Prices for available units start from 152,000 Reais (approx. £57,000) with an optional four year 6% rental guarantee.
Dr Geraldo Furtado counts 86 units arranged across 26 storeys with just four apartments per floor. Upwards of the ninth storey the incredible coastline will come into view – just 1,200 metres beyond. Designed with city workers in mind, the two and three bedroom properties are complemented by a convenient array of upmarket on-site facilities to include underground parking, a communal swimming pool and barbecue area, pool bar, sauna, games room, laundry, reception and 24 hour gated security.
In a privileged city hotspot, residents can combine the arts, fine dining and Mall shopping with lazy days on the local Praia do Meio beach. Natal's main business district has swift access whilst Ponta Negra, the area's famous 4km-long dune beach, is a short drive down the coastal road.
Prices start from 152,000 Reais (approx. £57,000) and with work already commenced onsite, payment terms are spread until completion in January 2013. Upon completion, investors have the option to either sell for very high profit or hang on and enjoy lucrative rental income. Choose between a hassle-free four year 6% rental guarantee or use the developer's rental management team and expect returns of 10% net each year. Selling or renting will bring even higher profits during FIFA World Cup year 2014 as Natal's brand new 45,000 capacity Estadio das Dunas will be located within 5km of Dr Geraldo Furtado.
Both uv10.com and the developer are members of the Association of International Property Professionals (AIPP) for added reassurance.