Brazil agent gets gold in OPP Awards for Excellence 2010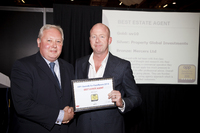 Barely six months since winning Best Small Agent 2010 in the Association of International Property Professionals (AIPP) Awards, uv10.com was once again top dog at the Overseas Property Professional (OPP) Awards for Excellence 2010 – this time scooping Best Estate Agent (Gold) in front of a prestigious London ExCeL audience.
Robbert Hofman, CEO for uv10.com, collected the Award in person and had this to say, "Considering that we had to compete against entries from estate agents across the globe, the Gold Award for uv10.com is quite an achievement. OPP's judging panel comprises leading property industry figures and we're delighted that they recognise our values, business practices and how seriously we take our responsibilities as an agent."
This year, OPP gave an insight into the judges' thoughts by releasing a short extract from their remarks. For uv10.com this read, "A first-class team with first class knowledge, uv10 put a lot of thought and research into their choice of listings. Whilst operating a commercial operation they put their clients first. They do not apply too much pressure to buy, but are always on hand to offer professional advice. Overall I felt that this was a company going places. They are Number One because of their hands-on, caring agency approach which is creating a healthy stream of satisfied customers."
This resumé is shared by uv10.com's clients who regularly write in testimonials or refer friends to the Company. Purchasers from the United States recently emailed to say "you did a great job with us during our initial visit in May 2009 and the contact, professionalism, and detail we observed was absolutely crucial in our decision to purchase the villa", whilst a couple from the South of France echoed their sentiment with "you have given us fantastic service, undisputed time and energy, complete honesty, and a great product."

In a similar vein to the AIPP Awards, Brazil featured highly amongst the successful entrants in the OPP Awards. Best International Developer (Gold) and Best Developer Latin America (Gold) both went to Brazilian companies, the latter being a key partner for uv10.com. This is a direct reflection of Brazil's flourishing economy and rocketing growth in the domestic housing sector – with an imminent Olympic Games and FIFA World Cup thrown in for good measure.
Held on 15 October at the combined Property Investor Show and OPP Live 2010 in London's ExCeL, the ceremony was well attended by leading industry experts from across the globe. OPP is known to be the world's number one forum for property professionals and the Awards have high standing in the market. The scheme covers all aspects of the industry from developers to lawyers, and from foreign exchange companies to estate agents, whilst its principle focus is to reward and recognise excellence. Judges commend companies and individuals who work hard to produce high quality products and services and a win inspires confidence both internally and externally to the business. All award entries are carefully vetted by a panel of qualified judges, all of whom are recognised leaders in the industry.