The Granville @ Barford to host special Christmas wine event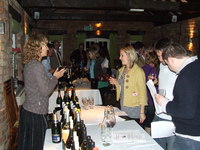 The Granville @ Barford, in conjunction with Dorje's Wine Company, will be hosting a special Christmas wine-tasting evening on Wednesday 10 November from 6:00pm - 10pm.

Guests can enjoy an informal and fun evening sampling over 100 different wines from around the world including Champagnes, Sparkling Wines, Port and Dessert wines. Tickets cost just £10 per person.

Dorjes will be introducing a new range of exclusive wines from Argentina, a unique Bordeaux and Burgundy collection and the Snoqualmie award winning wines from Washington State. Guests will also be able to try for the first time the Two Vines Columbia Valley Wines from Columbia Crest Winery in Washington State, together with their Grand Estates Chardonnay and Cabernet Sauvignon.

As well as sampling the extensive range of wines, Alastair and Jayne MacBrayne from Dorjé's Wine Company will introduce the wines and provide an insight into wine appreciation.

Val Kersey, Proprietor of The Granville, stated "We're delighted to be hosting our Christmas wine-tasting evening with Dorjé's Wine Company. The event will be a great experience for wine lovers and presents guests with the opportunity of trying an extensive range of exclusive wines, perfect for stocking up for the festive season".

Tickets can be purchased from Dorjes Wine Company or from The Granville @ Barford. Those interested in dining at the award-winning dining pub are advised to reserve a table in advance to avoid disappointment.

The Granville @ Barford is situated 1 mile from the M40 at junction 15 on the A429 sign-posted to Stow-on-the-Wold. Please visit the website at granvillebarford.co.uk for further information.