Turkish property developer embraces 'crowdsourcing'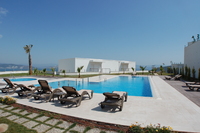 Until the invasion of social media, aftersales was a full-time job for a property developer with clients posing individual queries and asking for personal updates. Today the 'crowd' is taking the strain and, thanks to the 'Horizon Sky Owners' FaceBook Group, both client and developer are now constantly in the picture.
'Crowdsourcing' was coined back in 2006 by Jeff Howe of Wired Magazine who defined it as "the act of taking a job traditionally performed by a designated agent (usually an employee) and outsourcing it to an undefined, generally large group of people in the form of an open call". The phenomenon relates to the internet volunteers who update encyclopaedic Wikipedia, the many amateur travel critics who post on TripAdvisor and of course hundreds of Horizon Sky buyers.
Daniel Dias for developer Signature International building Horizon Sky close to Bodrum comments, "Set up by an entrepreneurial buyer back in 2008, the FaceBook Group has now become a surprisingly important part of our business. With almost 340 members, each at a different stage in the Horizon Sky buying process, there's always an 'expert' online to handle queries and as a developer we're delighted to observe the debate."
Daniel continues, "I firmly believe that clients are more comfortable learning from their peers - sharing experiences on lawyers, opening Turkish bank accounts, the delivery of furniture packs, the quality of the food in the on-site restaurant, the standard of build and finish of homes and so on – than they perhaps would be going direct to us at Signature International. They can get an unbiased opinion and it's comforting to witness how much praise and enthusiasm there is for the Resort and our efforts as a developer."
"The most fascinating lesson that we have learned is what really concerns our clients. Whilst we assumed that delays in the construction timeline or minor contractual changes would cause the greatest debate, we were wrong. Most postings relate to communication. Providing everyone is in the loop, regularly informed and aware of latest on-site progress, the Group tends to be happy. So we have to make this a priority for Signature International."
Daniel finishes, "Of course 'crowdsourcing' does have its downside as the business exposes itself to criticism and the odd disgruntled client who wishes to grind their personal axe in public. The former is useful, we can learn from criticism, but the latter can be an issue. We do not have any administration rights to remove or amend negative postings, not that we would necessarily advocate that, so they're there on FaceBook for all members to see. Thankfully unreasonable exchanges with irrational individuals are extremely rare and the debate tends to reach a satisfactory conclusion offline and in private."
For images, videos and a lively discussion regarding Horizon Sky please join the 'Horizon Sky Owners – Turkey' Group on FaceBook, or visit signatureinternational.co.uk.