More good news for Brazil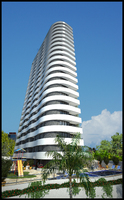 With excitement already building for FIFA World Cup Brazil in 2014, a new survey by tourism marketing experts, Pangaea Network, confirms that the South American nation has plenty to look forward to. Of the travel professionals polled, the majority agreed that hosting an international football tournament will do more to boost a nation than any other sporting event – four times more popular than motor racing which ranked in second place.
Samantha Gore, Sales Manager for Brazil estate agents uv10.com based in Natal, comments, "Brazil is very much looking forward to basking in the world's spotlight and is going to take the opportunity to show not only the inevitable football-fever Carnival atmosphere but many of its other assets as well. With 12 host cities spread around the country, including Natal in the northeast, Brazil will be given the chance to demonstrate its breathtaking beaches, heady metropolises, a wildlife rich interior and, most importantly, the notable progression of the nation in recent years. Upgraded airports, monorail systems, new hotels, improved telecommunications and latest generation stadiums will be revealed for the world to see that Brazil is serious, stable, reliable and has transformed significantly both socially and economically."
Earlier this year, Brazil's Minister of Sports disclosed the impact the World Cup was expected to have on Brazil. Tourism for 2014 is predicted to bring in about five-billion USD and create 710,000 jobs – 330,000 permanent and 380,000 temporary. The effect on Brazil's GDP through to 2019 is envisaged to be over 65 billion USD as a result of the investments, consumption and tourism that will continue in the aftermath of the World Cup. Brazil's GDP is already outperforming the predictions of the global experts surging by 9% year-on-year – its fastest growth rate in around 14 years.
Samantha continues, "With regards to real estate, it's never going to be an exact science to predict the impact of a World Cup on the property market but it can only be positive. In 2004, FIFA selected South Africa as the first African nation to host the World Cup finals. In 2005 real estate prices in South Africa rose by a significant 35% and, whilst it can't take all the credit, the prospect of staging a global sporting event in 2010 was a major driver. We're already seeing many more pure investors who are taking Brazil's local market very seriously indeed and see the forced improvements in infrastructure as an extremely good thing as they make the Brazil much more accessible to visitors – improvements that will continue as Brazil gears up for the Olympics in 2016."
uv10.com offers numerous real estate investment opportunities into northeast Brazil, many within striking distance of Natal's new 45,000-capcaity Arena das Dunas stadium. One project that fits the bill perfectly is Edificio Dr Geraldo Furtado (uv10.com/designer-apartments-in-Petropolis) in the privileged Natal city hotspot of Petrópolis. Building has just commenced on these two and three bedroom apartments but completion is not expected until January 2013 - perfect timing to coincide with the final construction stages of the international airport and the World Cup build-up. Rental returns are expected to reach around 10% net each year and far higher during the World Cup. Prices of the few units still available start from 174,762 Reais (approx. €74,200 euros or £63,500 pounds) complete with optional four-year rental guarantee and coveted ocean views.
For more information, visit uv10.com.