Dazzle this party season with FACE Stockholm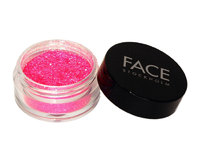 Party season this winter is all about nude, matte faces with deep browns and berry shades to highlight eyes and lips. For instant glam add some gold to make sure you shine this Christmas time!
FACE Stockholm has the perfect product range to suit any occasion and with more than 200 lip shades and 150 eyeshadows there is sure to be a colour to match any party outfit.
Galaxy Glitter (£12.00)
To add pots of pure sparkle to your festive party try out one of the rainbow of Galaxy Glitter colours, or mix and match different shades on upper and lower lids for a statement look.
Used as an eye shadow, Galaxy Glitter will make sure you light up the room, or apply to your face or body to add a touch of glam.
Metallic shades are big this Christmas season as well as dark tones, such as purples and deep browns. Try Elva or Nitton for maximum sparkle.
Matte lipstick (£15.50)
Deep berry shades and brown tones are the key lip colours for this winter season. Matte lipstick will create a flawless look to enhance the trend for immaculate skin, providing long-wearing, colour-saturated coverage with no shine.
Get the look with shades such as Auburn and Bordeaux.
All that glitters...
Gold is the ultimate party colour this festive season and FACE Stockholm has everything you need to embrace this trend.
Dazzle on the dancefloor with Eye Dust and Galaxy Glitter to highlight your eye area and use loose powder and Glitter Stick on your body to shine like a star!
FACE Stockholm is the cosmetics company bringing makeup and skin care that is true to the Swedish beauty ideal - natural, trend-forward, simple, clean, gorgeous and fun!
FACE Stockholm offers a spectacular range of colours with more than 200 lip shades, over 150 eye shadows, blushes, foundations, powders, professional makeup tools, and a natural skin care line. Only the highest quality and most natural ingredients are used. All products are hypoallergenic, do not block pores, use minimal packaging and are never tested on animals.
FACE Stockholm products can be bought in the UK and Ireland through facestockholm.co.uk or from the store at 6 King Street, Manchester, M2 6AQ.