Perfect your pout with Eyeko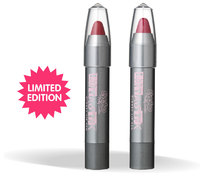 Go back to cool with Eyeko for precision point lip perfection. Forget all those lippy rules of apply, blot, re-apply. Lip pencil, lipstick, lipgloss . . . yawn! Make you mark with Eyeko Liptastik Glossy Lip Pen, the 3 in 1 twist-up lippy for a 10 out of 10 pout.
Following fashion's trend for bold lips is easy with Eyeko Liptastic Glossy Lip Pen. Just line and fill in one easy sweep for liner, colour and gloss in one! Available in 2 must-have shades featuring a fresh and fruity fragrance and added gloss for luxe lips.
Shades available:
Lip Lover – Sexy red lips are hot and this scarlet hue will keep you ahead of the fashion pack.
Loud Mouth – Rosy pink lips always look polished and effortless. Maximise your beauty wardrobe with the flattering shade.
For more information, visit: Eyeko.com