Space saving ideas get the bespoke treatment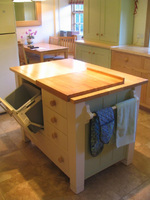 Interior storage solutions for the bedroom, bathroom and dressing room can often be overlooked and cleverly designed bespoke storage can work wonders in giving more space and creating a beautiful and relaxing environment.
Furniture design is a skilful process and requires problem solving and technical knowledge. When a good design concept is coupled with years of experience and skilled workmanship it can transform the most utilitarian bedroom or bathroom into a practical and pleasurable place in which to relax.
Interior space within a bedroom or bathroom is often at a premium and finding well made custom built storage that looks will add value to your home and sit comfortably within the architectural style of your property.
Washstands, cabinets and freestanding bathroom furniture will provide additional storage and look particularly striking within a period style home, linen closets, wardrobes and airing cupboards can be designed to make the best use of awkward spaces. Unused or difficult corners can be transformed with bespoke cabinetry and handcrafted freestanding vanity units give a glamorous feel to a bathroom. From period or traditional style pine or painted furniture to art deco inspired interiors why not enlist the help of a skilled designer who will interpret your ideas and turn them into custom made pieces made to withstand the test of time.
Adequate and well designed bedroom storage will prove invaluable when keeping your room clutter free and designated dressing rooms or walk in closets are highly practical and can be made to your exact personal requirements. Why not invest in furniture that will add value to your property, custom made, bespoke furniture gives both flexibility and value for money.
For more information, visit barnesofashburton.com.