Holiday homes in Egypt - A safer bet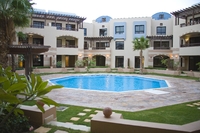 With news of more travel companies and airlines going bust, buying a holiday home has become a safe investment for those seeking a place in the sun.
Port Ghalib Red Sea, an award-winning resort on Egypt's Red Sea Riviera, has an excellent range of holiday apartments and villas starting from just £69,000, with rental guarantees of seven per cent.
A total of 13 travel firms have gone bust in the UK alone, including Gold Trails whose collapse this summer affected over 50,000 travellers. While travel insurance firms now offer various protection schemes against the failure of holiday companies, many of them involve complicated and often costly methods for recovering lost funds.
Egypt is growing in popularity as a beach and winter sun destination for holidaymakers and Port Ghalib Red Sea is perfectly situated on the stunning Red Sea, amidst beaches and a dramatic mountain backdrop. At the very heart of the resort is the Port Ghalib Red Sea International Marina, one of the world's top marina ports and the first official entry point into Egypt from the south. Operating since 2002, the Port Ghalib Red Sea International Marina features a five metre deep habour basin, full customs and immigration facilities and habourmaster control.
Eng.Ibrahim Saleh, spokesman for Port Ghalib Red Sea and President of the Kharafi Group in Egypt comments: "With an increasingly unstable travel industry, holidaymakers are looking for alternative routes to protect themselves from losing out on valuable time and money spent on booking holidays. Through purchasing an investment property in Marsa Alam, which features reasonable property prices and a young tourist market set to explode, they gain not only a holiday home in one of the hottest destinations of the world, but also peace of mind and the opportunity to make extra spending money from the rental".
Phase One at Port Ghalib is now over 50 per cent complete with the Marina and four operating international hotels including the five plus star the Palace by Intercontinental. Children will be kept entertained when visiting the resort, with a four lane ten-pin bowling alley, horse academy and activity centre, while adults will be spoilt for choice from a variety of water sports and the luxurious Six Senses Spa, which has just been named Egypt's best spa at the World Travel Awards. Once fully completed, the development will also boast a further 19 hotels, yacht club, an 18-hole golf course and further entertainment facilities and services.
Port Ghalib Red Sea is located 65km south of Al-Qusair city and 210km south of Hurghada and just five minutes drive from Marsa Alam International Airport, which services over 2.5 million passengers each year from a number of European destinations including London, Paris, Rome and Berlin as well as daily domestic flights from Cairo. Flight times are: one hour from Cairo; two and a half hours from the Gulf; and five hours from Europe. Port Ghalib is also easily accessible by sea, via the new Port Ghalib International Marina, and by road, with the Valley of the Kings just two and a half hours away.
There are currently a wide range of studio, one, two, three bedroom apartments and four bedroom villas available at Port Ghalib Red Sea, with prices starting from £69,000. For further information, please visit: portghalib.com