New York Times deems Port Ghalib 'must-visit' destination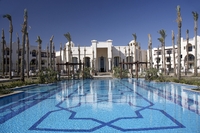 Egypt's Port Ghalib Red Sea has been recognised by the prestigious New York Times as one of the top 41 list must-visit destinations of 2011.
Situated on the southern shores of the Red Sea Riviera, this ground-breaking new resort offers the sun, sand and sea of Egypt off the beaten path. Port Ghalib Red Sea was ranked alongside other destinations such as Miami, Budapest and Whistler, Canada.
Port Ghalib Red Sea is the largest resort of its kind in North Africa and is fast becoming Egypt's leading holiday destination with visitors from around the world drawn to its crystal clear waters and coral reefs home to rare fish and thousands of wild dolphins.
Engineer. Ibrahim Saleh, spokesman for Port Ghalib Red Sea and President of the Kharafi Group-Egypt comments: "Port Ghalib Red Sea is a unique destination in Egypt that offers visitors a world-class resort community, with quality hotel and private residences and a wide variety of activities and amenities at your fingertips. To be included in the New York Time's round up of top 41 destinations to visit in 2011 is both an honour and delight as it recognises Port Ghalib Red Sea as an important and must-see destination spot of Egypt."
Port Ghalib Red Sea will be comprised of 23 hotels, an 18-hole golf course, 8,200 residences and a yacht club. Currently Phase One of Port Ghalib Red Sea is 45 per cent complete and currently has 600 private residences and four operating hotels. Leisure facilities and amenities include a Six Senses Spa, water sports, a PADI dive academy, 165 shops and restaurants, cafes and bars. Located at the very heart of Port Ghalib Red Sea is the International Marina, which is the core of the community. Featuring a five metre deep harbour basin, it is a fully serviced port of entry into Egypt.
There are a range of hotels at Port Ghalib Red Sea, from the elegant and upscale Intercontinental The Palace Port Ghalib, to the adventurer's haven – Marina Lodge, which is within easy reach of the major dive sites of the Red Sea and has its own PADI five-star diving school. The Intercontinental Hotels Group also operates two five-star Crowne Plaza hotels at Port Ghalib Red Sea, the Sahara Sands and the Sahara Oasis.
Visitors to Port Ghalib Red Sea have a host of amenities and activities available to them, including day trips to Luxor, safari adventures and snorkelling discovery trips. The resort also benefits from Six Senses Spa, which offers a rich mixture of traditional spa treatments alongside a variety of Asian and Arabic healing therapies. When fully complete, Phase One will incorporate 19 further hotels, in addition to a yacht club, an 18-hole golf course and further entertainment facilities and services.
Port Ghalib Red Sea is an award-winning and luxurious destination, which has also recently won recognition at the prestigious 2010 World Travel Awards, garnering four awards from 'Leading Honeymoon Resort' to 'Leading Family Resort'.
Flights to Marsa Alam International Airport with Thomson start at £169 per adult with departures from London Gatwick and London Stansted.
Egypt is a popular destination for holiday home investment, and Port Ghalib Red Sea offers a variety of private residences for purchase. The Marina Residences at Port Ghalib Red Sea are a collection of 600 luxurious apartments and villas, with views of the International Marina. Each home comes fully furnished and air-conditioned, with kitchens that are equipped with appliances, cutlery, and crockery. Residents enjoy 24hr security and the use of full community services such as maintenance, parking and garbage collection, and also have access to landscaped courtyards, and Port Ghalib Red Sea's onsite amenities as well as an optics ring that covers the whole resort and provides state-of-the-art broadband, TV and telephone services.
In addition to a wide range of hotel services and amenities Port Ghalib Red Sea in a hub for international concerts and events including the Beyonce: I Am tour in 2010.
Port Ghalib Red Sea is located 65km south of Al-Qusair city, 210km south of Hurghada and just five minutes drive from Marsa Alam International Airport, which services over 2.5 million passengers each year from a number of European destinations including London, Paris, Rome and Berlin as well as daily domestic flights from Cairo. Flight times are: one hour from Cairo; two and a half hours from the Gulf; and five hours from Europe. Port Ghalib Red Sea is also easily accessible by sea, via the new Port Ghalib International Marina, and by road, with the Valley of the Kings just two and a half hours away.
There are currently a wide range of studio, one, two, three bedroom apartments and four bedroom villas available at Port Ghalib Red Sea, with prices starting from £69.000.
For further information, please visit: portghalib.com