Escape the snow and catch a winter tan in Egypt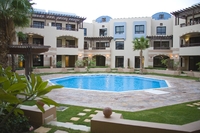 For winter fun that doesn't involve snow and ice, Port Ghalib Red Sea on Egypt's fashionable Red Sea Riviera offers a host of sports and activities sure to please and delight.
The ground-breaking US$2 billion resort is already 50 per cent complete, with four hotels, 600 private residences, an international airport and a 1,000-yacht capacity marina.
From camel riding and parasailing to reef diving, sports enthusiasts have an endless array of activities to enjoy at Port Ghalib Red Sea, all under the warm Egyptian sun. For a more relaxing treat, the resort's Six Senses Spa, provides the perfect opportunity to relax and recharge, with treatments ranging from a variety of Asian and Arab holistic therapies, herbal steams and detox programs. Parents can also enjoy guilt free quality time while children are entertained at the Lulee Kid's Club.
Eng.Ibrahim Saleh, spokesman for Port Ghalib Red Sea and President of the Kharafi Group in Egypt comments: "We wanted to create a resort get-away for families, couples and friends alike to relax and enjoy the surroundings with plenty of nearby amenities. The Port Ghalib Red Sea offers a much-needed escape from bitter cold winters."
Other adventures at Port Ghalib Red Sea include swimming with dolphins, diving in the Red Sea with its colourful marine life and quad biking through the desert.
Phase One at Port Ghalib Red Sea comprises of nine unique villages and 160 retail and commercial outlets. There are also four operating international hotels and a wide range of villas and apartments fully furnished and ready for occupation.
Located just a five minute drive from Marsa Alam International Airport, Port Ghalib Red Sea is also easily accessible by sea, via the resort's own international marina, which is the core of the community and by road with the Valley of the Kings just two and a half hours away.
There are currently a wide range of studio, one, two, three bedroom apartments and four bedroom villas available at Port Ghalib Red Sea, with prices starting from £69,000. For further information, please visit: portghalib.com