Port Ghalib - Luxury at your fingertips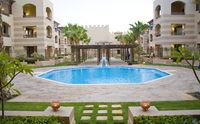 Luxury aficionados seeking an alternative to popular and crowded Egyptian destinations, such as Sharm El Sheik, need look no further than Port Ghalib Red Sea.
Situated on Egypt's fashionable Red Sea Riviera, the groundbreaking US$2 billion resort incorporates a range of homes, hotels, leisure facilities and amenities all benefitting from stunning sea views.
Eng.Ibrahim Saleh, spokesman for Port Ghalib Red Sea and President of the Kharafi Group in Egypt comments: "Our guests visit Port Ghalib Red Sea, not only for its convenient vicinity to the sea and the many on-site amenities, but also for the reassurance of luxury. From the furnishings of the residences and hotels to the delectable restaurants, guests and residents alike can indulge in the very best that Egypt has to offer, instead of battling the crowds and staying in tired resorts".
Egypt is continuing its growth as one of the UK's most popular holiday destinations, with UK passengers to the country increasing by 13 per cent. Port Ghalib Red Sea offers some of the newest developments for holidaymakers to enjoy, including Phase One which is now over 50 per cent complete with four operating international hotels and a wide range of luxuriously finished villas and apartments ready for occupation. Once fully completed, the resort will boast a further 19 hotels, a yacht club and an 18-hole golf course, in addition to more entertainment facilities and services.
Other amenities located at the resort include world class diving schools, an award-winning spa, horse academy and 160 retail and commercial outlets. Located in the heart of the resort is the Port Ghalib Red Sea International Marina, the country's first official entry port and the first access gate to Egypt from the south.
Port Ghalib Red Sea is located 65km south of Al-Qusair city, 210km south of Hurghada and just five minutes drive from Marsa Alam International Airport, which services over 2.5 million passengers each year from a number of European destinations including London, Paris, Rome and Berlin as well as daily domestic flights from Cairo. Flight times are: one hour from Cairo; two and a half hours from the Gulf; and five hours from Europe. Port Ghalib is also easily accessible by sea, via Port Ghalib International Marina, and by road, with the Valley of the Kings just two and a half hours away.
With 600 apartments and villas, the Marina Residences at Port Ghalib Red Sea offer not only stunning views of the marina, but also come fully furnished and outfitted with all the essentials. Residents enjoy 24 hour security and the use of full community services such as maintenance, parking and garbage collection.
There are currently a wide range of studio, one, two and three bedroom apartments, plus four bedroom villas available at Port Ghalib Red Sea, with prices starting from £69,000.
For further information, please visit: portghalib.com