Orange home broadband and calls 'Price Promise'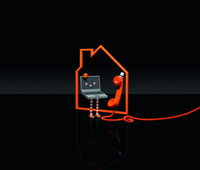 Orange have announced the launch of a new Price Promise for its home broadband and landline call customers. Starting with immediate effect, the move sees Orange home broadband and call customers benefit from a unique price commitment where Orange will automatically lower their monthly subscription should it offer their plan at a lower price in the future - reinforcing its best value UK home broadband and calls packages.
Bruno Duarte, Vice President of Home, said: "We realise that times are financially hard for many and that several of our rivals are actually increasing the price of their service this New Year. So we want to reassure our customers that we'll do all we can to maintain our best value offers, and what better way than with a price commitment that really does show we mean it".
Available to new and existing customers who subscribe from today to Orange's "Broadband & Off Peak Calls" package or Orange's "Broadband & Anytime Calls" package, the new Price Promise further rewards Orange mobile customers who already receive the UK's best broadband and call deals, and will be supported by a high profile advertising campaign in the first quarter of 2011. The new Price Promise and Orange's best value home broadband and calls packages will be highlighted to consumers through print, online, direct mail as well as outdoor advertising.
Speaking on the announcement, Michael Phillips, Product Director for independent price comparison experts, Consumerchoices.co.uk, said: "Orange's broadband and phone bundles are great for existing Orange mobile customers and it's new Price Promise, will give useful peace of mind for its customers in these cost conscious times."
Orange customers also have access to a host of other benefits including some of the best UK landline daytime call rates and Orange Wednesdays with 2-for-1 cinema tickets. Additionally, customers benefit from no connection fees, free online protection with McAfee Family Protection, plus parental control.

To find out more about home broadband and calls from Orange, and for full terms and conditions for the Price Promise - please visit orange.co.uk/broadband.