Bintan Lagoon Resort & Golf Club LEEDS the way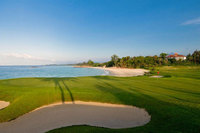 Bintan Lagoon Resort & Golf Club is pleased to announce that it has been awarded the LEED Silver Certification for Existing Buildings, making it the first resort in Southeast Asia to earn this prestigious certification by the US Green Building Council.
LEED, which stands for Leadership in Energy and Environmental Design, is the most sought after green building certification system in the world.
"We are ecstatic to be the first golf resort in Southeast Asia to become LEED Certified," said Moe Ibrahim, Bintan Lagoon Resort & Golf Club's President Director. The certification process, which took approximately 18 months, was made possible by the establishment of a dedicated Green Team at the resort.
"It feels good to go green, literally" said Mr. Ibrahim. "Most people are unaware of the dangers they face when it comes to substandard cleaning supplies and pesticides. By going green, we have taken measures to positively impact the personal health of our guests. We've also managed to save money in the process."
As an integrated resort within the natural settings of Bintan island, Bintan Lagoon Resort felt going green was a necessity to maintaining its brand promise to its guests. The resort has invested wisely to establish an independent power plant, water treatment facility, and has installed a state-of-the-art building automation system to meticulously carry out the resort's new, environmentally conscious operational policies.
"Going green does not need to be an expensive exercise," explains Mr. Ibrahim. "Via the creativity of our team, we have managed to reduce water consumption by 15% and electricity consumption by a staggering 40%. Our investment will pay for itself many times over in the coming years."
Bintan Lagoon Resort has also added a significant number of bikes around the property so that guests can get around without leaving behind a carbon footprint.
"We have a responsibility to preserve the planet," says Mr. Ibrahim, "so that the natural, unspoiled beauty of Bintan can continue for many generations to come."