Tuscany holiday homes available through new purchase concept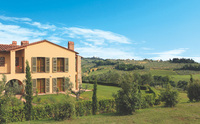 Italian holiday homes available to buy through an innovative new private residence club are said to offer the best value lifestyle option for people who cannot justify the cost of purchasing a holiday home in Tuscany when they will only use it for a few weeks each year.
This month the final touches are being put to a group of former farm buildings which have been given a new lease of life as luxurious holiday homes set in an archetypal Tuscan rolling landscape of vineyards, olive groves and cypress trees.
They are located alongside the sixteenth century former home in Montagnana of ancient and influential Italian families linked to the Medici, 24 km south-west of Florence in the Chianti wine region.
The development, Villa Bossi Pucci, takes its name from the last family to have owned the property over four generations. It comprises six buildings arranged around a central piazza and converted to create 21 one-, two- and three-bedroom residences.
They are being sold on an innovative private residence club basis which enables purchasers to buy a one-tenth interest in a particular residence and then to have unlimited use of all the residences in that category, subject to reservation policies.
The private residence club concept – now the fastest-growing sector of the luxury holiday home industry – has been pioneered in Europe by Peter Kempf of Peter Kempf International which is handling sales for the Milan-based developer, Il Sasso srl.
Explains Peter: "This is not fractional ownership, whereby an owner's use of the property is limited to a fixed number of days each year; neither is it timeshare which may not have ownership in bricks and mortar.
"Members of a private residence club are joint owners of the actual building and yet have access to all residences in their category. Like the members of an equity golf country club wishing to book tee times, their use of the accommodation is limited only by the club's reservation policies.
"In my view, this arrangement offers the best value lifestyle option for people who cannot justify the cost of purchasing and maintaining a holiday home abroad when, in reality, they will only use it for a few weeks each year."
Current prices of a one-tenth interest range from €50,000 for a one-bedroom residence, €86,000 for a two-bedroom residence, rising to €100,000 for a three-bedroom residence. Purchasers can buy more than one interest if they wish to do so.
Described by Peter as "an ideal holiday location," Villa Bossi Pucci is within easy reach of Florence, accessible by local buses which run to the city every half hour. Other towns and cities which are easily accessible are San Gimignano (30 km), Vinci (35 km), Siena (50 km) and Pisa (60 km). Beaches on Italy's west and east coasts are within a one-hour drive.
There are regular flights from UK airports to Florence and Pisa. Florence Airport is 25 minutes by road from Villa Bossi Pucci and Pisa Airport is a one hour drive.
For more information, visit villabossipucci.com.