Extreme adventures in Dominica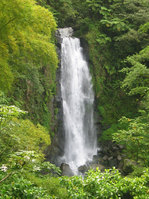 Awaken your inner 'spirit of adventure' with an unforgettable holiday to Dominica this year. Dominica (pronounced Dom-in-ee-ka) is a spectacular green island of rugged mountains, lush rainforests and rushing rivers in the Eastern Caribbean, lying south of Guadeloupe and north of Martinique.
Here are some of the adventure experiences available.
Extreme Dominica Canyoning Tour: Extreme Dominica Tours takes advantage of the abundant cascades and offers canyoning adventures priced at £95 per person. Price includes two guides, transport to/from Roseau port, all gear necessary, short training on rappel wall, and lunch afterward. There is enough variety to cater for all levels of experience and fitness, whether it's jumping over cascades into crystal clear pools, wading, swimming, climbing or rappelling through waterfalls.
extremedominica.com
Zip Line Canopy Adventure: For an outstanding view of the rainforest, the Canopy Adventure (£45 per adult) is the best option. Visitors are first provided with safety gear and the trained guides will then conduct a compulsory safety briefing. The adventure begins as visitors climb to the first platform, from which they will advance tree to tree on suspended platforms, footbridges and zip lines. The course consists of 27 challenges and seven zip lines with a Tarzan Jump for the daring, ending with a zip line suspended 40 feet from the ground across Layou, Dominica's longest and largest river!
wackyrollers.com
Tubing The Pagua River: The Pagua River is one of the longest on the island and winds gently through beautiful lush rainforest. This tubing adventure (£19 per adult) begins with a drive upstream to the launch site. Visitors are given a safety briefing, life vest, modified inner tube and paddle. With everyone in the water the one and a half hour journey begins gently spinning and swirling downstream to Pagua Bay where the river meets the Atlantic Ocean.
hibiscusvalley.com
4 Wheel Drive Rainforest and Waterfall Adventure: The 4 Wheel Drive adventure starts in the capital, Roseau, before a visit to the Botanical Gardens for a close-up encounter with the National Parrot - the Sisserou. The adventure tour then takes visitors through the mountains to the renowned Wotten Waven Sulphur Springs. The ride continues deep into the rainforest, to the Ti Tou Gorge, situated in the village of Laudat. Here visitors will discover a natural plunging rock pool and an up close view of a crystal clear waterfall - a fitting climax to this rainforest adventure!
wackyrollers.com
Hike the Waitukubuli National Trail: Work is well underway on the Waitukubuli National Trail, the first and only long-distance walking trail in the Caribbean. This unique Trail will run for 115 miles from the south to the north of 'The Nature Island', when it fully opens in December 2011. The trail is divided into 14 sections, enabling hikers to complete one section per day. In total, it can take two weeks to cover the entire trail and is definitely not for the faint hearted. Some sections of the trail are already complete and work is continuing to get the entire route open.
trail.agriculture.gov.dm
For more information about Dominica, visit: discoverdominica.com