Half price luxury ski chalets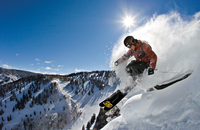 With the end of the ski season fast approaching, luxury ski chalet operator Ski Verbier (skiverbier.com) is offering a week's rental of their remaining luxury ski catered chalets at half price for all bookings made by 25th March 2011.
Following recent snowfall, the slopes in the world class Swiss ski resort of Verbier are in an ideal condition for spring skiing. Coupled with Ski Verbier's half price offer, they provide the opportunity to spend an unforgettable ski holiday in luxury with family and friends at an amazing price.

For arrival on 3rd April a week's stay at the world class ski chalet Chalet Baroque, a luxurious and sumptuously furnished ski chalet apartments a minute's walk from Verbier's main square, staffed by a gourmet chef, now costs £6,275 for arrival on 3rd April (excluding flights). The price includes accommodation for up to eight guests, with restaurant standard meals for breakfast, afternoon tea, pre-dinner canapés and gourmet 4-course dinners with fine wines.
An extended family, or two families sharing, can enjoy the ultimate in ski luxury at the spacious Chalet Cybou, with its fantastic open plan living/dining area with stunning mountain views from the extensive balcony. Guests are looked after by their welcoming yet discreet chalet host and chef. The chalet is available for a week's stay for up to eight guests for just £5,725, currently half price, for arrival on 27th March 2011, excluding flights.
Ski Verbier's well-known quality catered service is second to none and includes a delicious cooked breakfast, freshly baked afternoon tea after a morning on the slopes, canapés and then a four course feast for the senses accompanied by a selection of wines in the evenings.
Along with their fabulous luxury chalets, it's the wonderful subtle embellishments to Ski Verbier's world-renowned service that really gives the impression of unparalleled quality, which includes a champagne reception on arrival, complimentary ski guidance on the first day as well as a private cocktail party during the week.
For all bookings and further information, visit: skiverbier.com